Sunshine Dust ~140hr Prayer Candle (Spice & Rose)
Regular price
Sale price
$39.00
Unit price
per
Like a ray of vivid light beaming through vintage lace curtains, this aroma of light spice & soft leather fill the room, leaving notes of Moroccan rose on a bed of smoked tonka.
Scent profile :

Spice • Rose
This aroma of light spice & soft leather fill the room, leaving notes of Moroccan rose, Soft Leather, Peppery Spices, Earthy Tobacco, Vanilla Bean on a bed of Smoked Tonka. 
Handmade with :
✺ 14 oz of Soy wax (Approx. 140 hours burn time)
✺ Cotton Braided Wick
✺ Clear Glass Prayer Vessel
✺ Phthalate-Free Fragrance
✺ 1800s Floral Funerary Card Inspired Label

Why our candles are worth more

Our products are exclusively designed, molded & handcrafted in-house, to create unique products like no other. Hand-poured in small batches to offer the best quality. Read more
Care Info

CONTAINER CANDLES
✧ Allow for the wax to liquefy evenly across the diameter of the candle for each use (One hour per inch).
✧ Wax has a memory and will burn as far as the initial burn.
✧ Prior to each use, trim the wick to 1/4 inch.
Candle Safety

Each order comes with a Candle Care card with guidelines to ensure proper use of each type of candle, favour its longevity and, most importantly, offer a safe burning experience.


For more information, please visit the Candle Care page.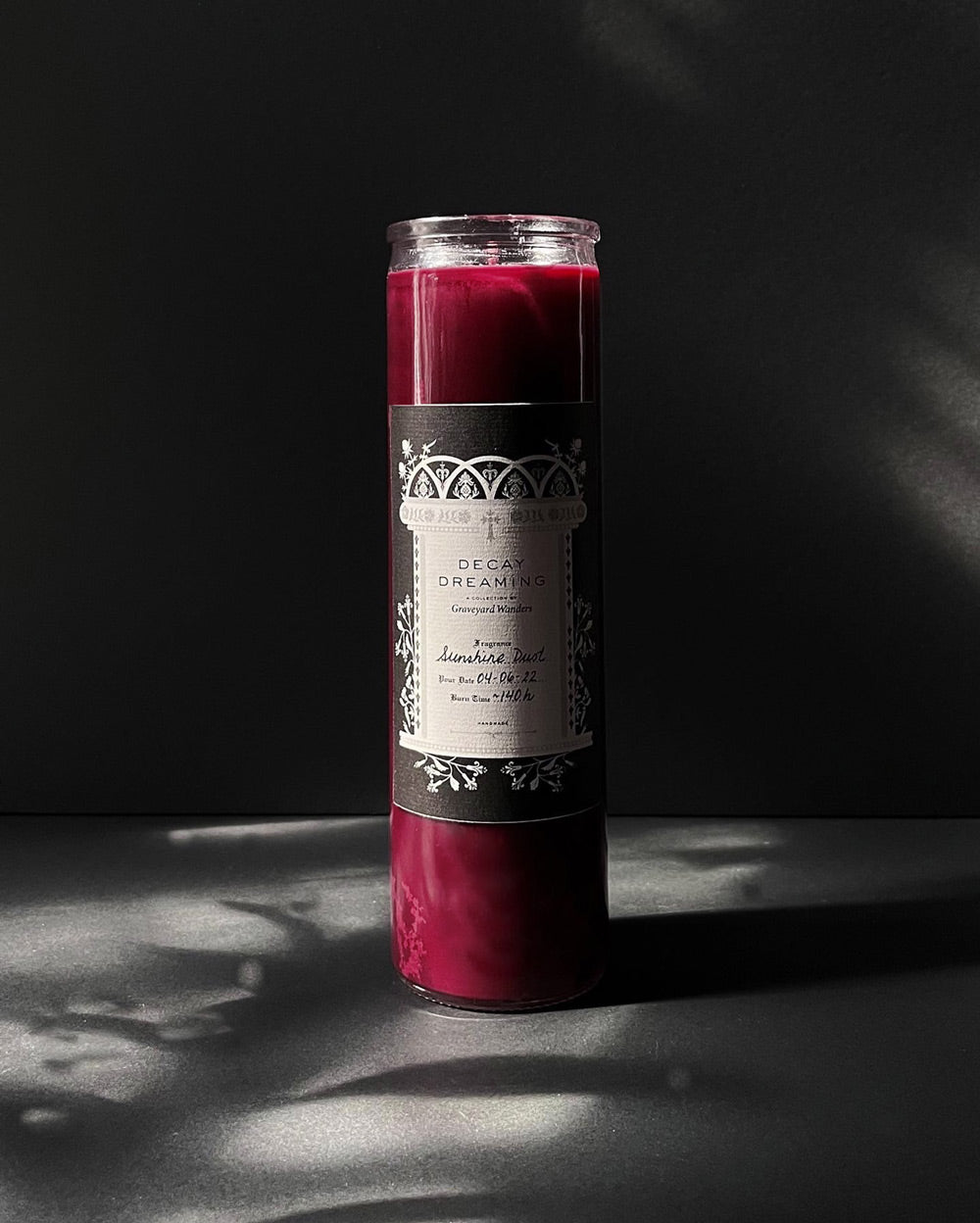 What our customers have to say 🖤
You can win a $50 gift card when sharing your love for a product. One winner is picked at random the 1st of each month!
Stunning candle and delightful fragrance
This candle smells wonderful and has been burning beautifully so far. The color of the wax and even the product sticker add to the overall ambience this candle provides. I highly recommend.
Graveyard Wanders Does it Again
I buy from Graveyard Wanders again and again, in large part because the scents are so amazing and unlike any other candles out there. This scent in particular is just so magical and nostalgic! Already bought a wax melt of this scent because I never want to run out of it. On top of that, the candle itself is as beautiful as ever.
Graveyard Candles are the Only Ones I Buy
This is not even an exaggeration. Graveyard Wanders Candles are the only ones I buy. I never found candles that smell this good before. The scent literally does something to the soul. I pick one up off my desk multiple times a day just to smell it.
The colors are also very vibrant, and the package is adorably dark. I'm simply in love with your products. They are the only ones I use in my house when it comes to meditation or rituals.
I also really appreciate that you guys offer the soy wax option. It puts my conscience at ease.
Thanks a lot for making such amazing products. Very grateful for it.
So Gothic Spring
This is the perfect blend spring time gothic with a hint of sweet. Perfect for this time of year. 🖤🥀