Set of 5 ~ Morbid Mini Candles
Regular price
Sale price
$39.00
Unit price
per
The perfect way to sample our 5 wicked scents in spookishly cute tins before committing to a larger size. A Morbid Mini candle delivers approx. 12hr burn time each.
Can be used for itty bitty spaces, to haunt your altar or for a spooky séance!  Full sized candles will be available July 22nd for our full All Hallows' Eve Collection 👻 
Handmade with :
✺ 2oz Soy wax (Approx. 12 hrs each)
✺ Cotton Braided Wick
✺ Phthalate-Free Fragrance
✺ Matte Black Tin with Lid
✺ Dimensions: 2in W x 1.5in H

Resurrecting scents ~
🎃 Samhain Spice
A ghoulish blend for the ultimate Pumpkin Spice fiend: a mouth-watering aroma of Spiced Pumpkin, Cinnamon & Caramelized Sugar.

👻 Haunted Manor
Imagine a lonely spectre roaming an abandoned home creating the divine aroma of Smooth Velvet, Soft Woods, Warm Vanilla & a hint of musk.
🪦 Afterlife
Reminiscent of telling ghost stories around a fire, gather round this aroma of Campfire Smoke, Woods & a touch of rich Cocoa to relive the horror.


NEW! aromas to haunt your heart ~
🍎 Witching Hour
Evoking the moment the clock strikes midnight on Halloween day, your senses are awakened by the magical scent of freshly sliced apples, cauldron bubbles & spices.

🍂 House by the Cemetery
An ode to hauntingly beautiful New England homes: crisp autumn air, fallen leaves, orange trees & clove dancing around ancient tombs.

Why our candles are worth more

Our products are exclusively designed, molded & handcrafted in-house, to create unique products like no other. Hand-poured in small batches to offer the best quality. Read more
Care Info

CONTAINER CANDLES
✧ Allow for the wax to liquefy evenly across the diameter of the candle for each use (One hour per inch).
✧ Wax has a memory and will burn as far as the initial burn.
✧ Prior to each use, trim the wick to 1/4 inch.
Candle Safety

Each order comes with a Candle Care card with guidelines to ensure proper use of each type of candle, favour its longevity and, most importantly, offer a safe burning experience.


For more information, please visit the Candle Care page.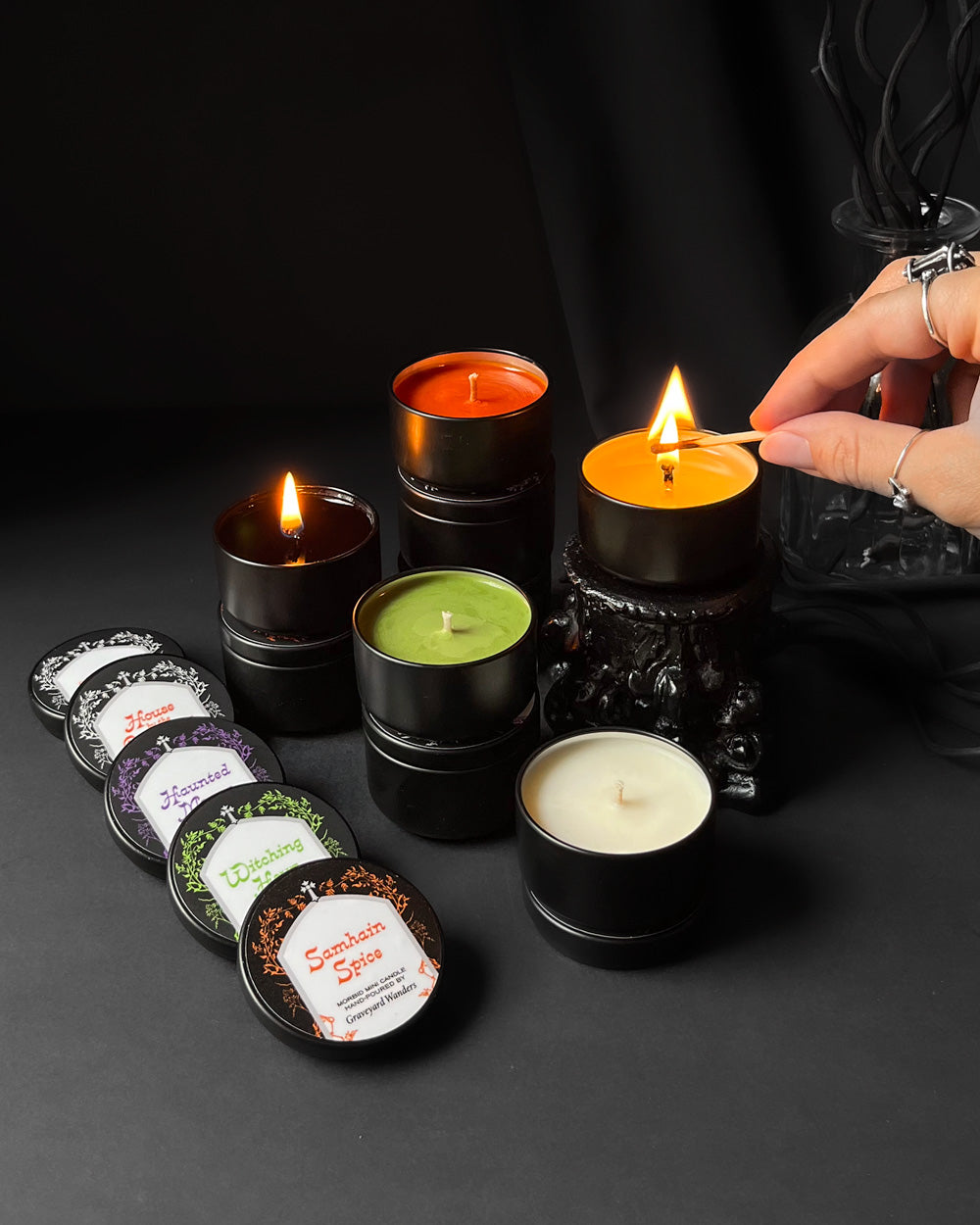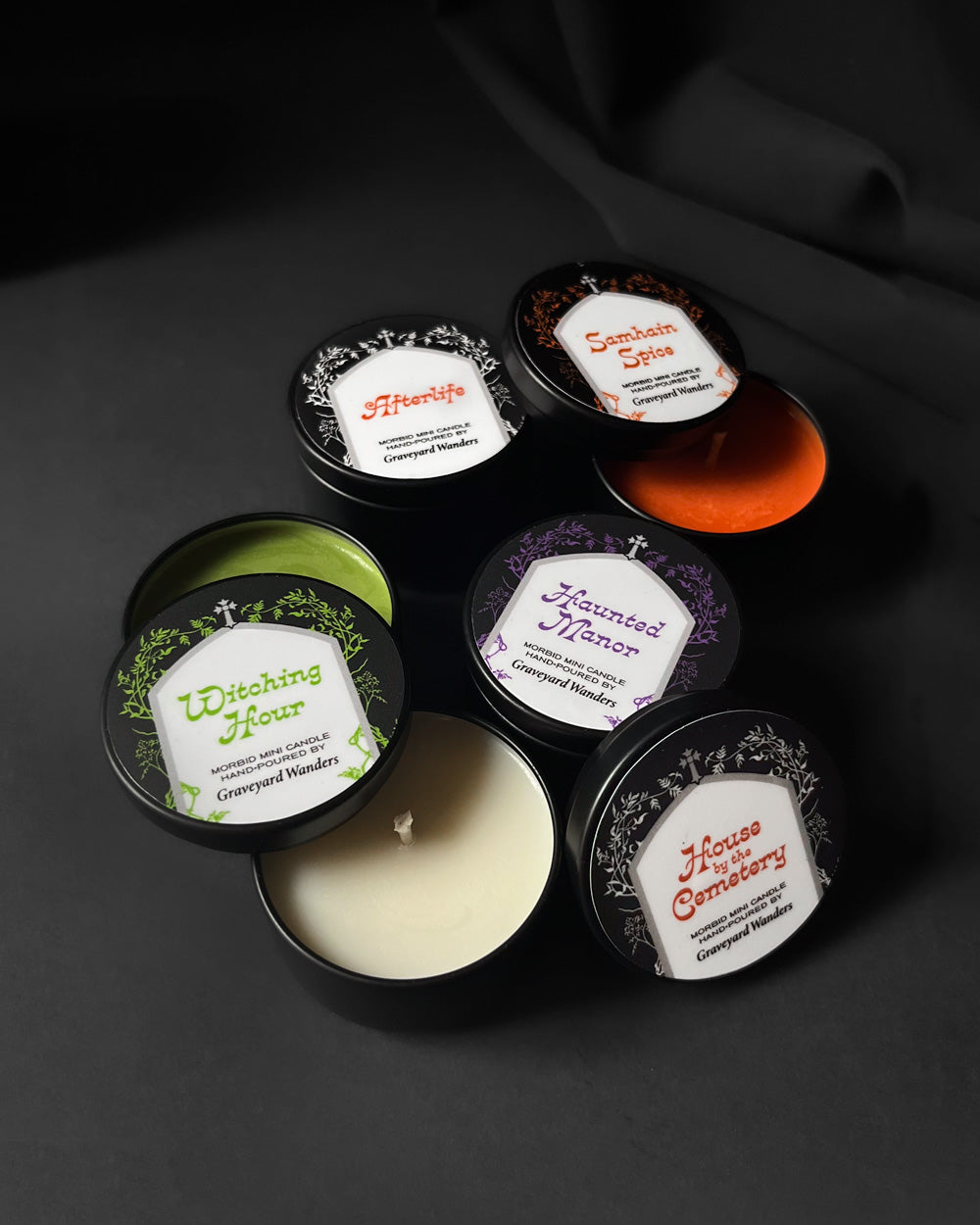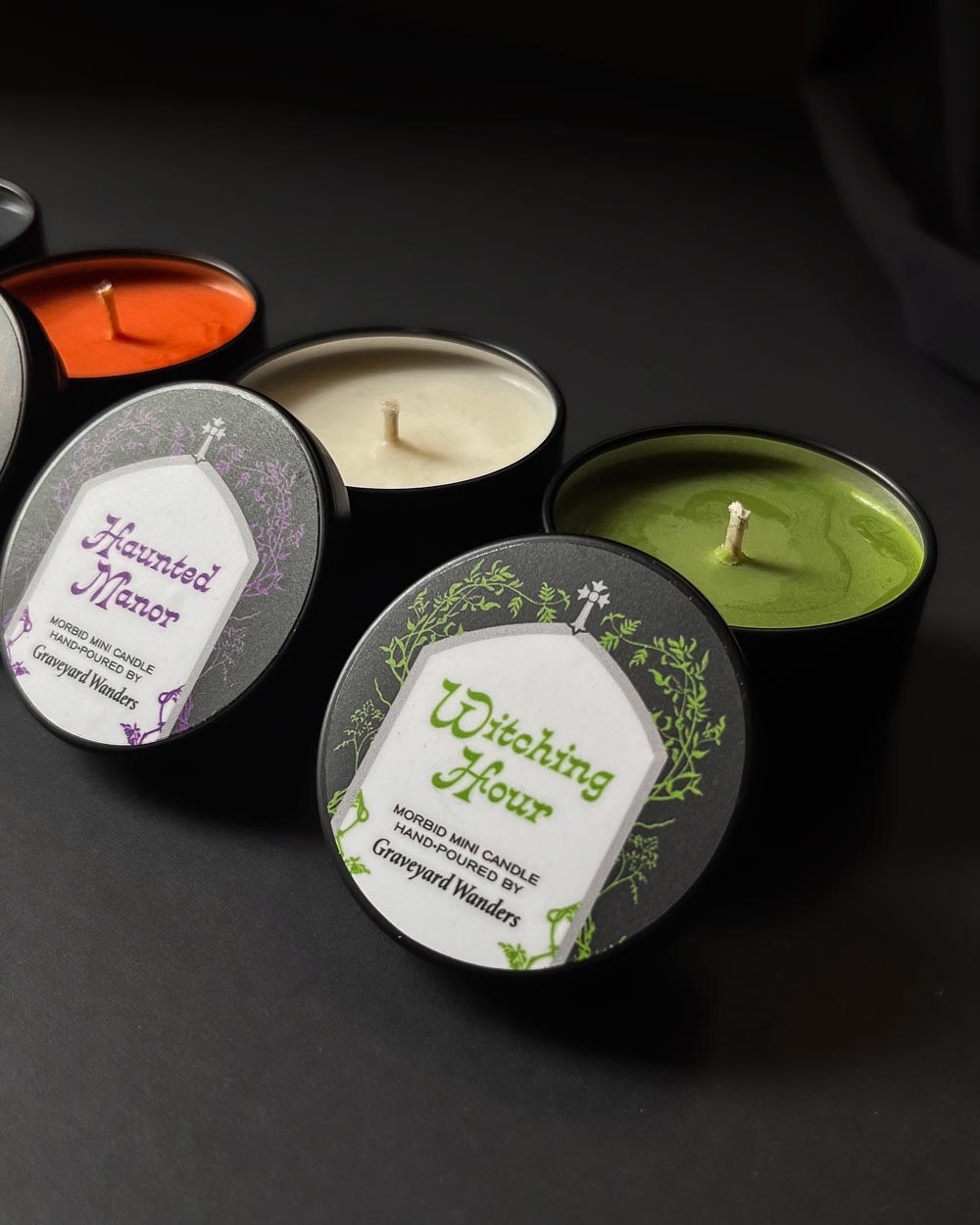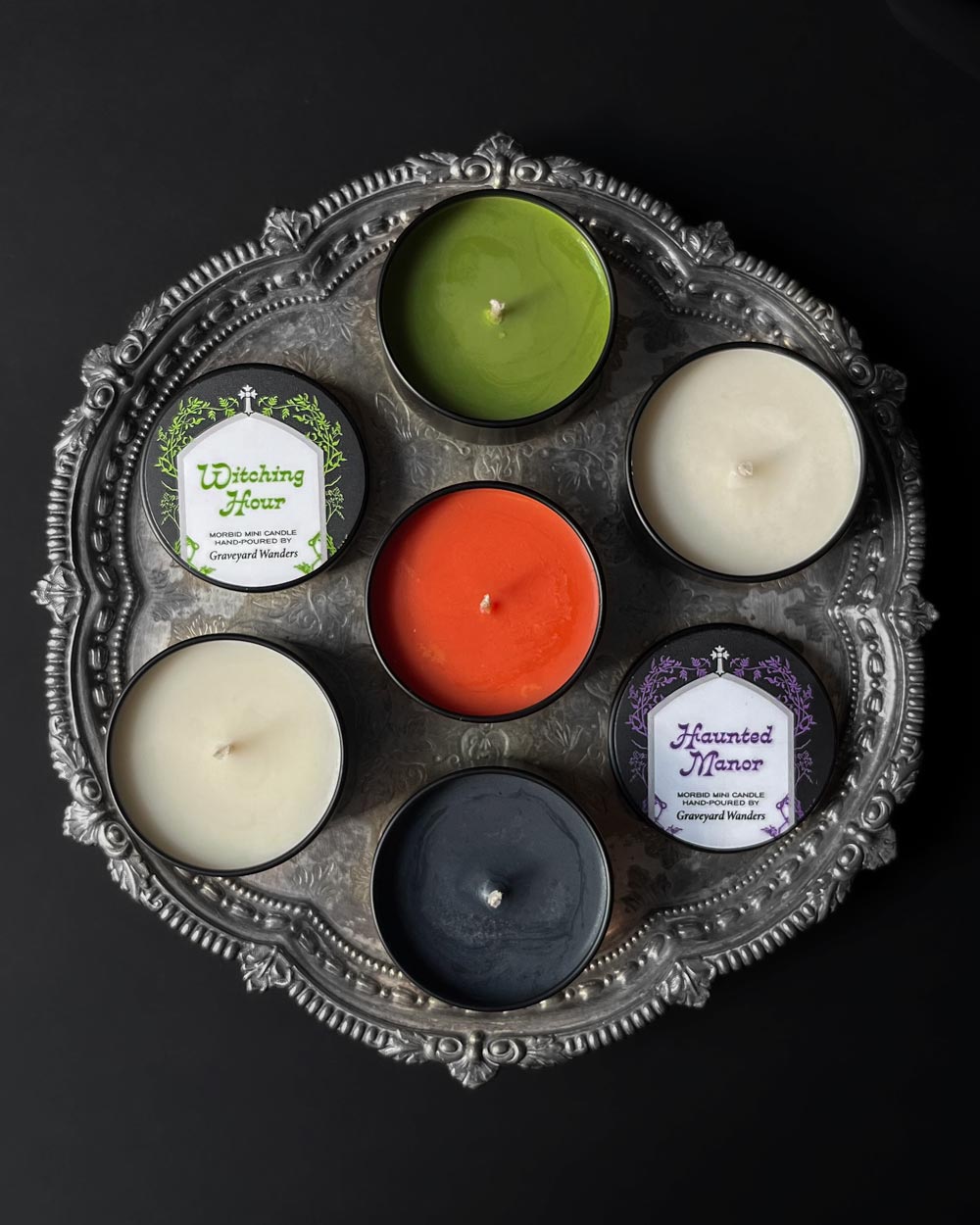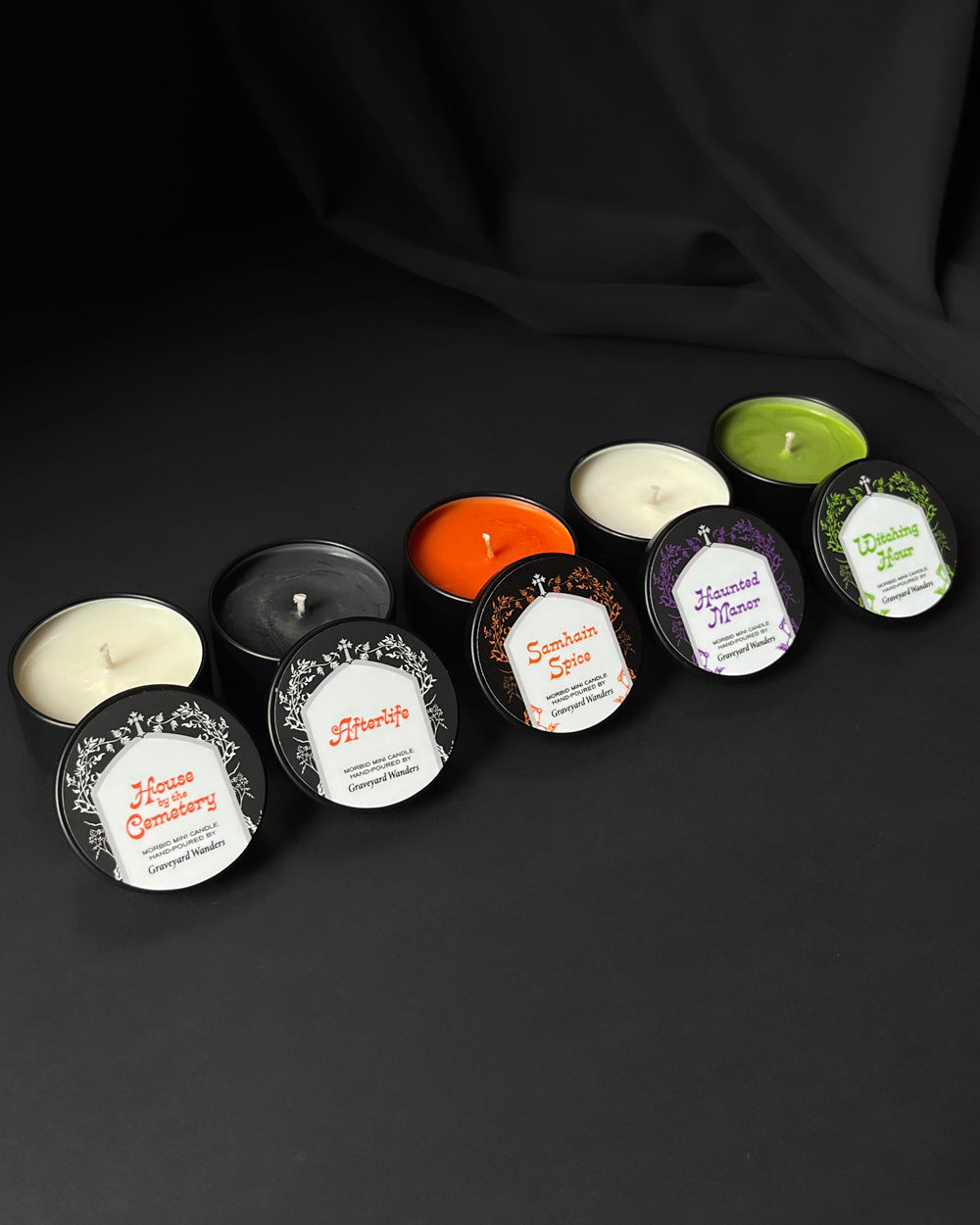 What our customers have to say 🖤
You can win a $50 gift card when sharing your love for a product. One winner is picked at random the 1st of each month!
Perfect size for sampling!
These are the cutest mini candles! This set is the perfect way to sample 5 blends. The blends are all unique, yet they work really well together. I'm also really enjoying lighting 2 candles at 1 time :)
Lovely Halloween Sample set
Sents hit all of the right notes to put one in the Halloween spirit. Nicely priced and shipped well. Thank you for the extra!
Great mini sampler
Such a great idea to have mini samples. I have been able to test them all out and smell what I would want in full size.
They are also a nice size to have sitting on my desk and I can pick whichever one appeals to me that day.
Would be great for gifting.
Love these mini candles!
I am a person often overwhelmed by options who sticks to what they know when they find something they like, but I loved the opportunity this set of mini candles gave me to see how I liked all of the candle scents! Doing this before committing to a bigger candle will help me choose scents in the future :)
Great way to sample the scents
Love these mini sample sets. Bought last years too. It's a good way to see if you like the scent before committing to a larger candle. I just gifted any of the scents I didn't care for. This years Witching Hour and House by the Cemetery are amazing! Went back for the large sizes.