Regular price
Sale price
$39.00
Unit price
per
Sale
Sold out
This gift set features 3 nostalgic scents to bring you comfort by candlelight during this dark season. Inspired by a midnight stroll in a chilled forest, the warm glow of a crackling fireplace & a parlour filled with antiques and dried herbs.
Fragrances included: Cypress Chills, Porcelain Parlour & Bewitching Flame. Learn more in the Scent Profile tab.
Each candle set comes with a secret 🗝 for 10% off prayer candles from the same collection!
Handmade with

✺ 3x 2oz Soy wax candles (Approx. 12 hrs each)
✺ Cotton Braided Wick
✺ Phthalate-Free Fragrance
✺ Metallic label
✺ Dimensions: 2in W x 1.375in H
Scent profile

Cypress Chills is reminiscent of breathing in fresh forest air on a midnight stroll, with notes of Cypress, winter Berries, Fig & Cinnamon.

Bewitching Flame is an inviting scent inspired by a wood-burning fire: Mahogany, zesty Citrus, spicy Pink Pepper, warm Amber, & burning embers.

Porcelain Parlour is nostalgic blend evoking the memory of a room filled with antiques with notes of uplifting Rosemary, earthy Sage & soft Palo Santo.
View full details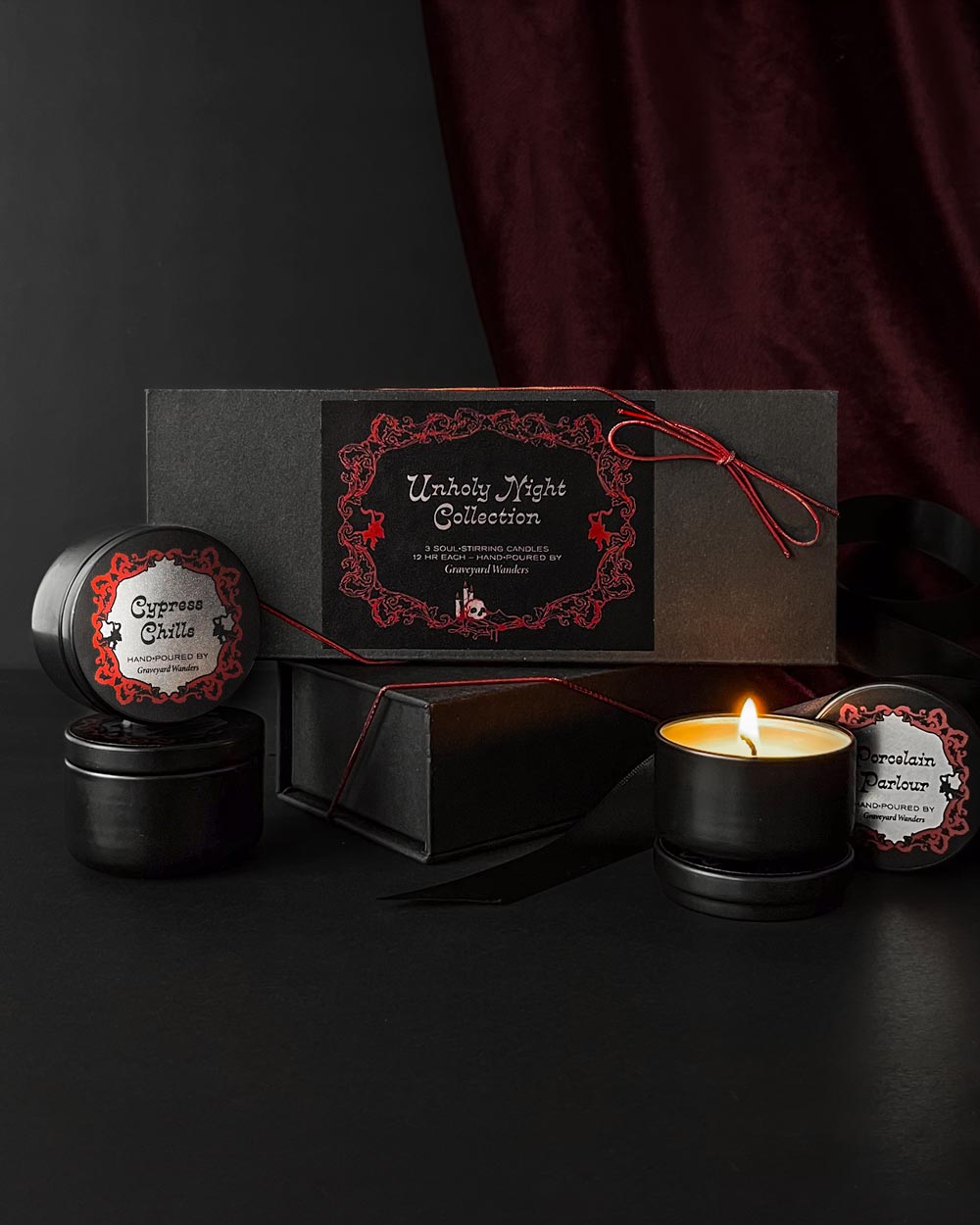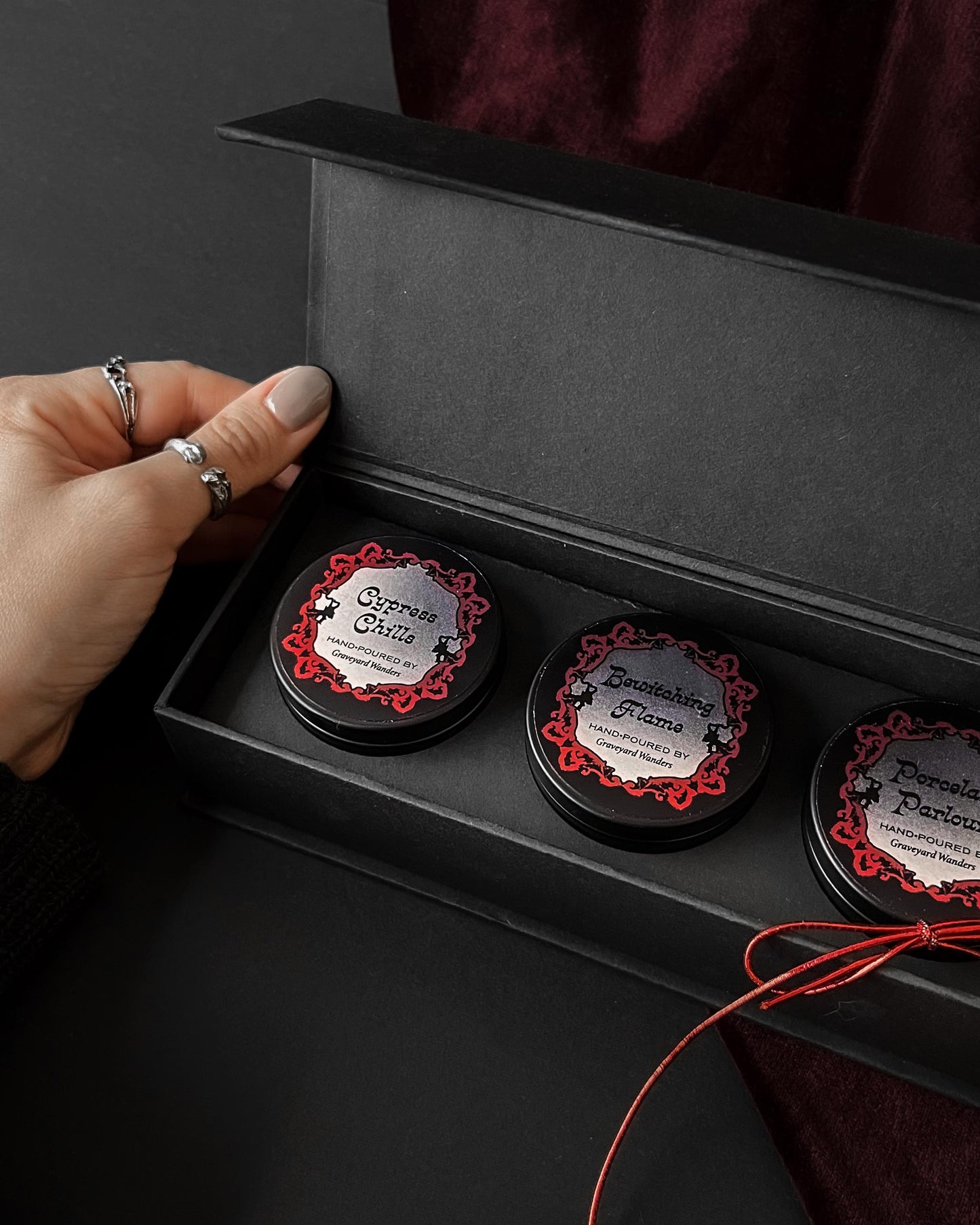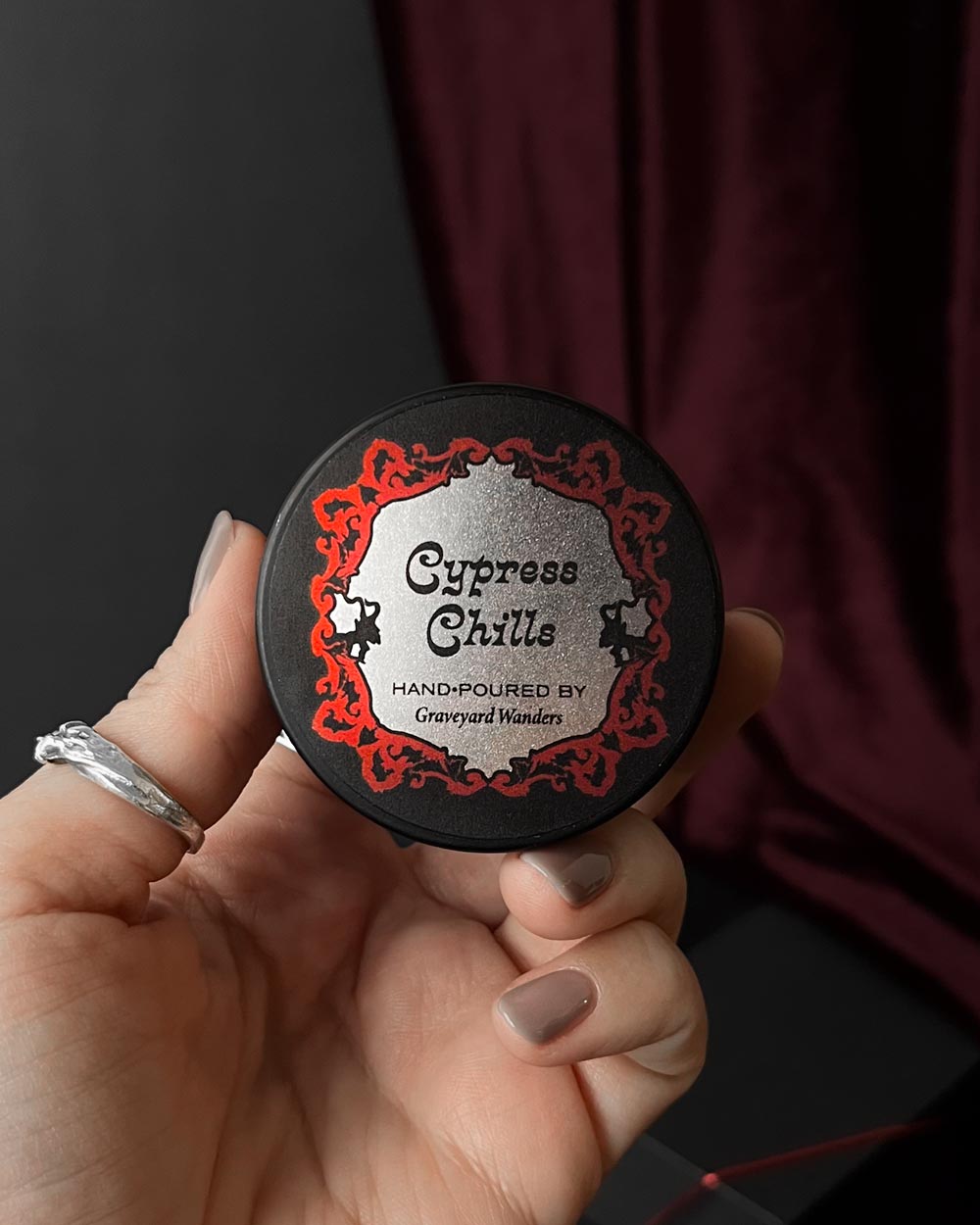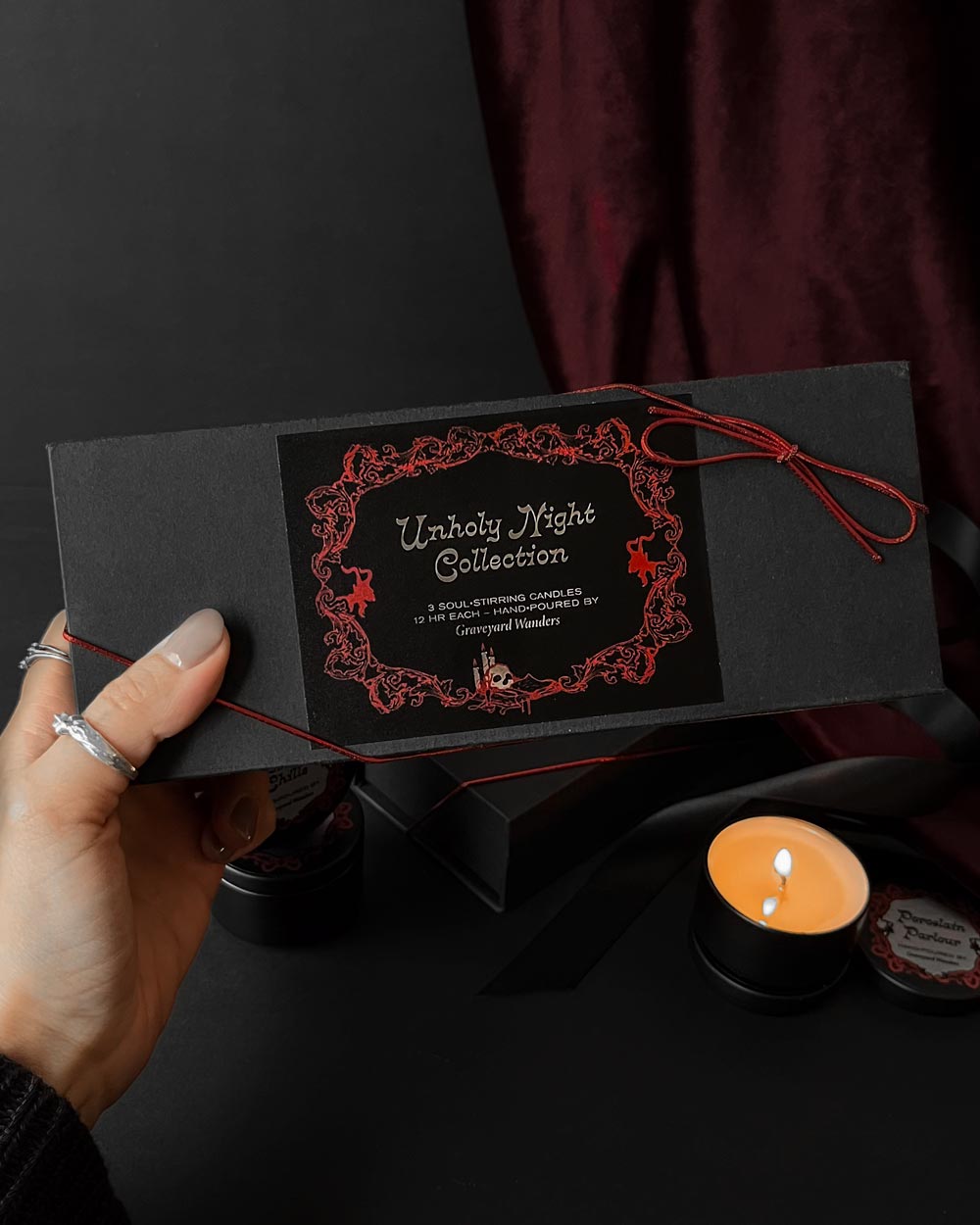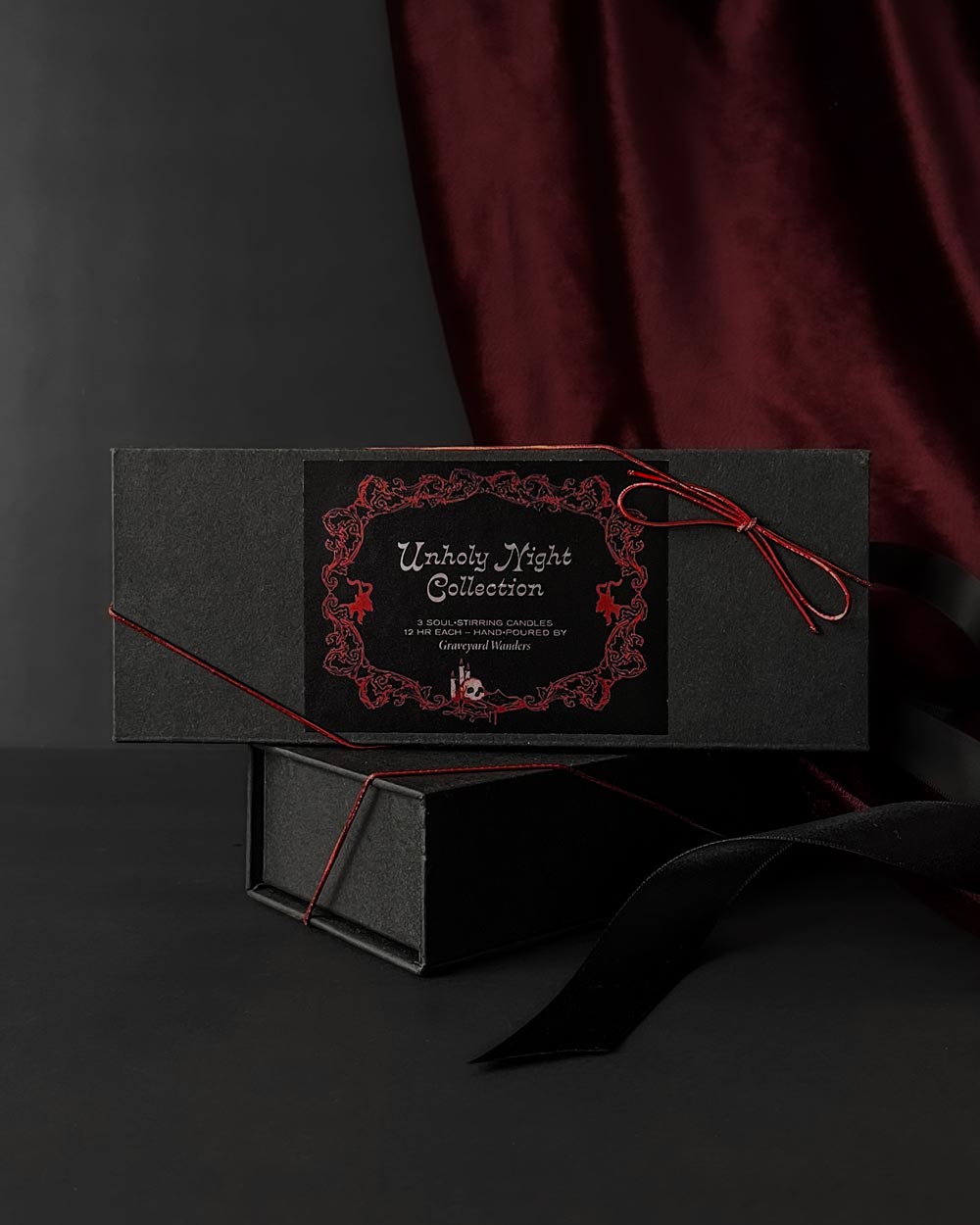 Collapsible content
Why our products are worth more

Our products are exclusively designed, molded & handcrafted in-house, to create unique products like no other. Hand-poured in small batches to offer the best quality. Learn more
How to use this product

Each order comes with with guidelines to ensure proper use of each type of product, favour its longevity and, most importantly, offer a safe experience.


For more information, please visit the Candle Care page.
What our customers have to say
You can win a $50 gift card when sharing your love for a product. One winner is picked at random the 1st of each month!
I absolutely love the packaging of the candles. The perfume oil smells Incredible, I can't wait to get more!
Beautiful Presentation and Quality
The presentation of these candles would make them amazing gifts, box and all. The scents are so unique and strong even before they're lit and fill the space on my desk perfectly without being too overwhelming once lit. Will definitely be back for any new gift sets!
Exquisite
This is my second purchase from Graveyard Wanders, and the set is…decadent. Just the packaging alone makes me feel like I'm opening Krampus's private collection. Porcelain Parlour turned out to be my favourite, which really shocked me, because I'm not usually a fan of some of the notes in this candle. There's something about how Graveyard Wanders creates scents…they're so complex compared to a lot of candles and perfumes that I have experienced over the years. This is how I want to treat myself, and I'm hooked!