Regular price
Sale price
$29.00
Unit price
per
Sale
Sold out
Having trouble choosing a fragrance or need a travel size of your favourite perfume?

Our Magic Mist Discovery Set features a sample size of each one of our haunting fragrances. From notes of earthy incense, clove, sensual amber & soft florals, this set is sure entrance your senses.
Experience these alluring scents as a personal perfume or to transform your home into an aromatic sanctuary, for yourself or as a gift.
 

Scent profiles (learn more in tab)

At Rest: Smooth • Incense
Beloved Bones: Velvety • Spice
Sinful Amber: Warm • Amber
Handmade with

✺ Silver Foil Label with Gothic Arch
✺ Phthalate-Free Fragrance
✺ Skin Safe Perfumers Ingredients
Scent profile

At Rest: Smooth • Incense
Its earthy and soft notes of Incense, Champa and a hint of Musk, holds a calming & mysterious effect.

Beloved Bones: Velvety • Spice
oothing with a pinch of spice, filled with spine-chilling notes of Clove buds, Sandalwood, Orange, Pipe Tobacco & Patchouli.

Sinful Amber: Warm • Amber
Entrancing & sensuous with soft florals, creamy amber & sun-kissed forest fruits.
Dimensions

3 x 10ml perfume fine mist bottles
View full details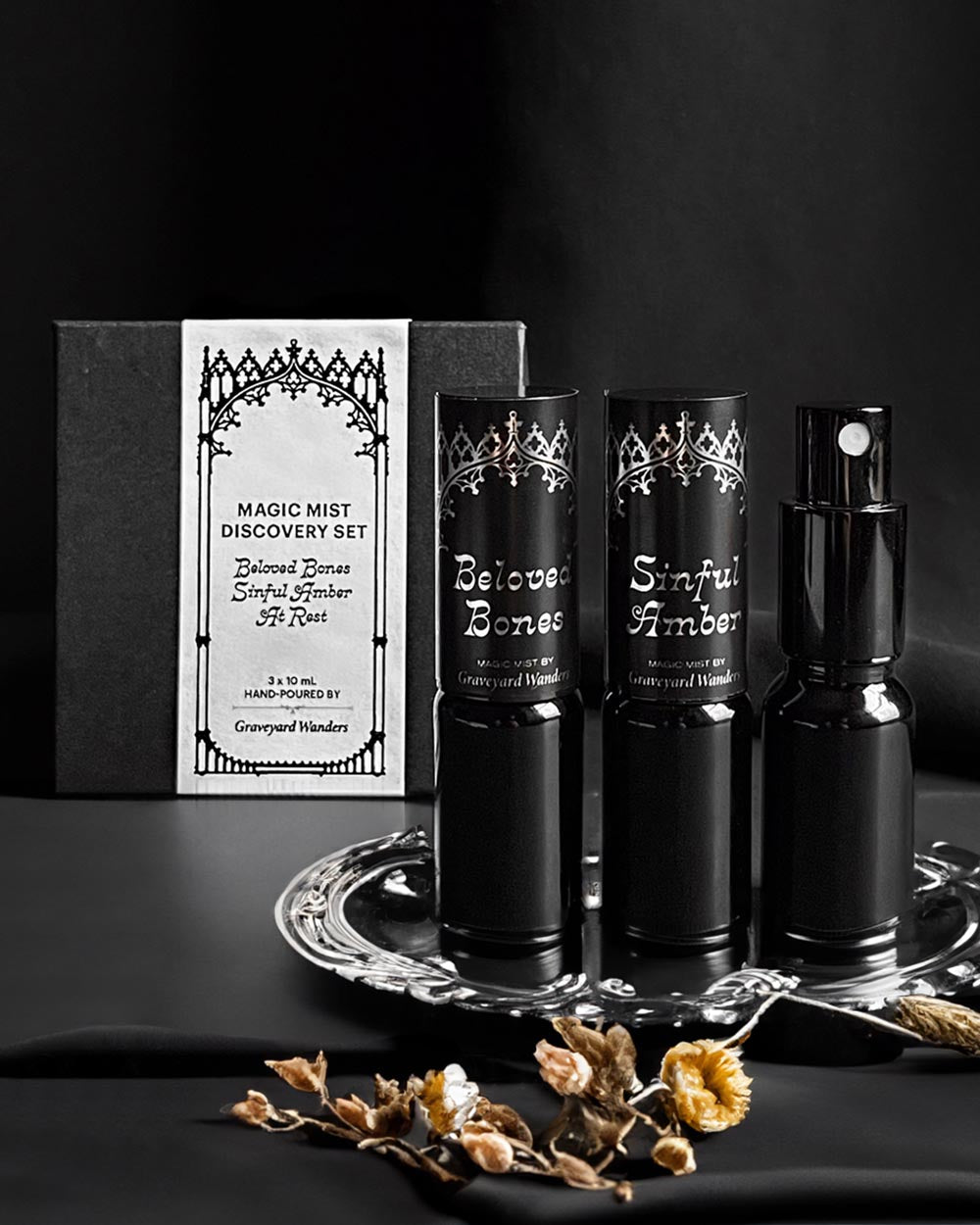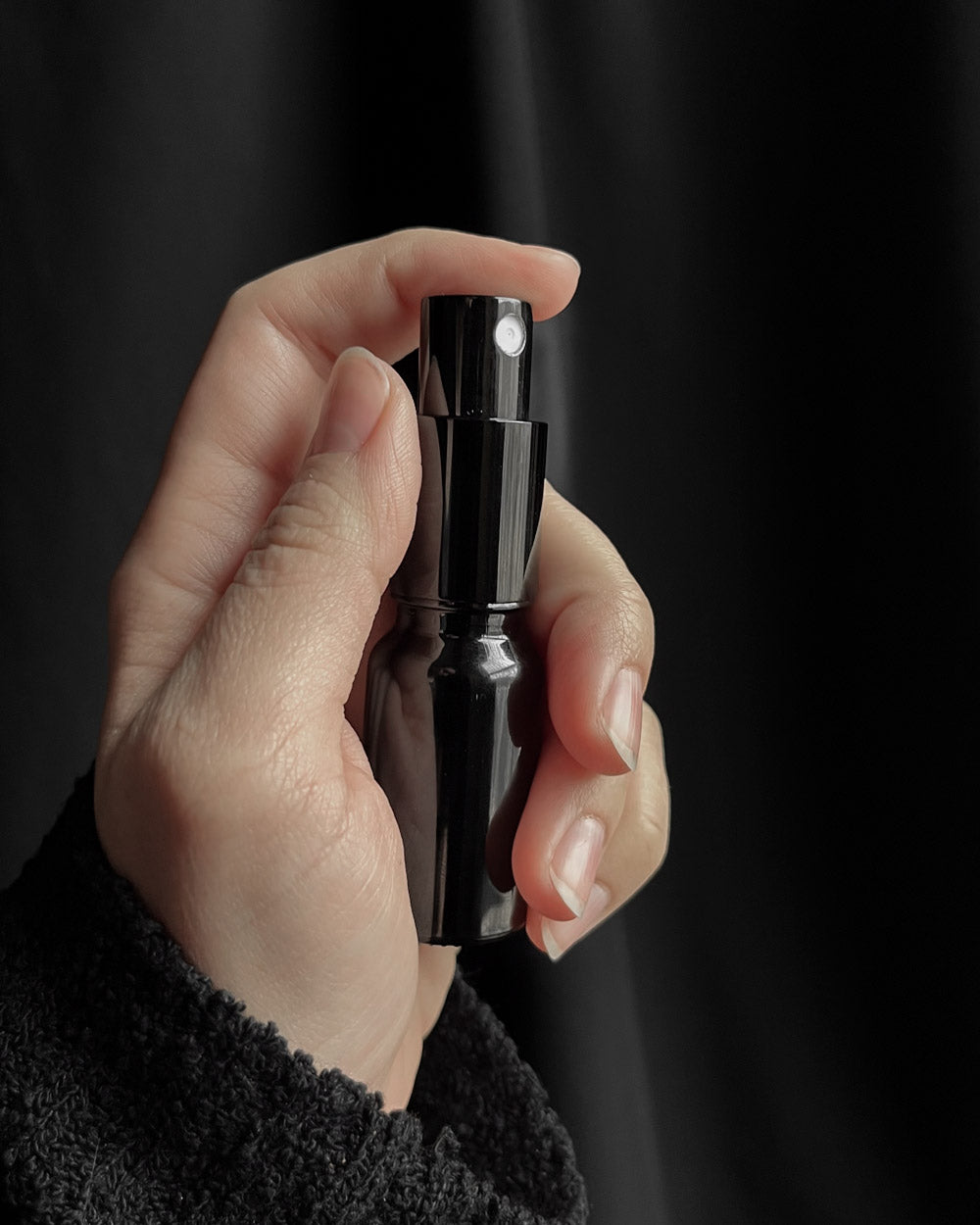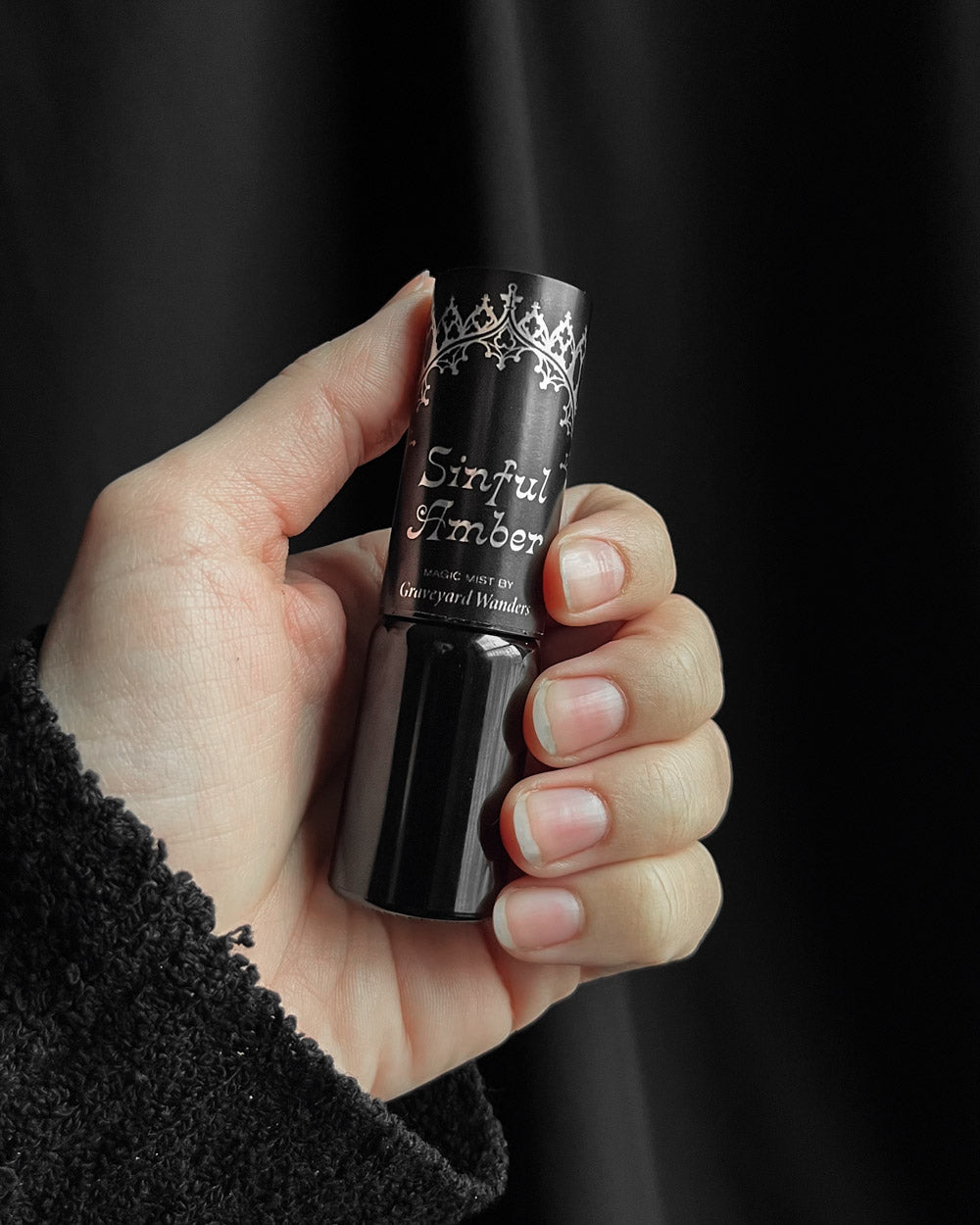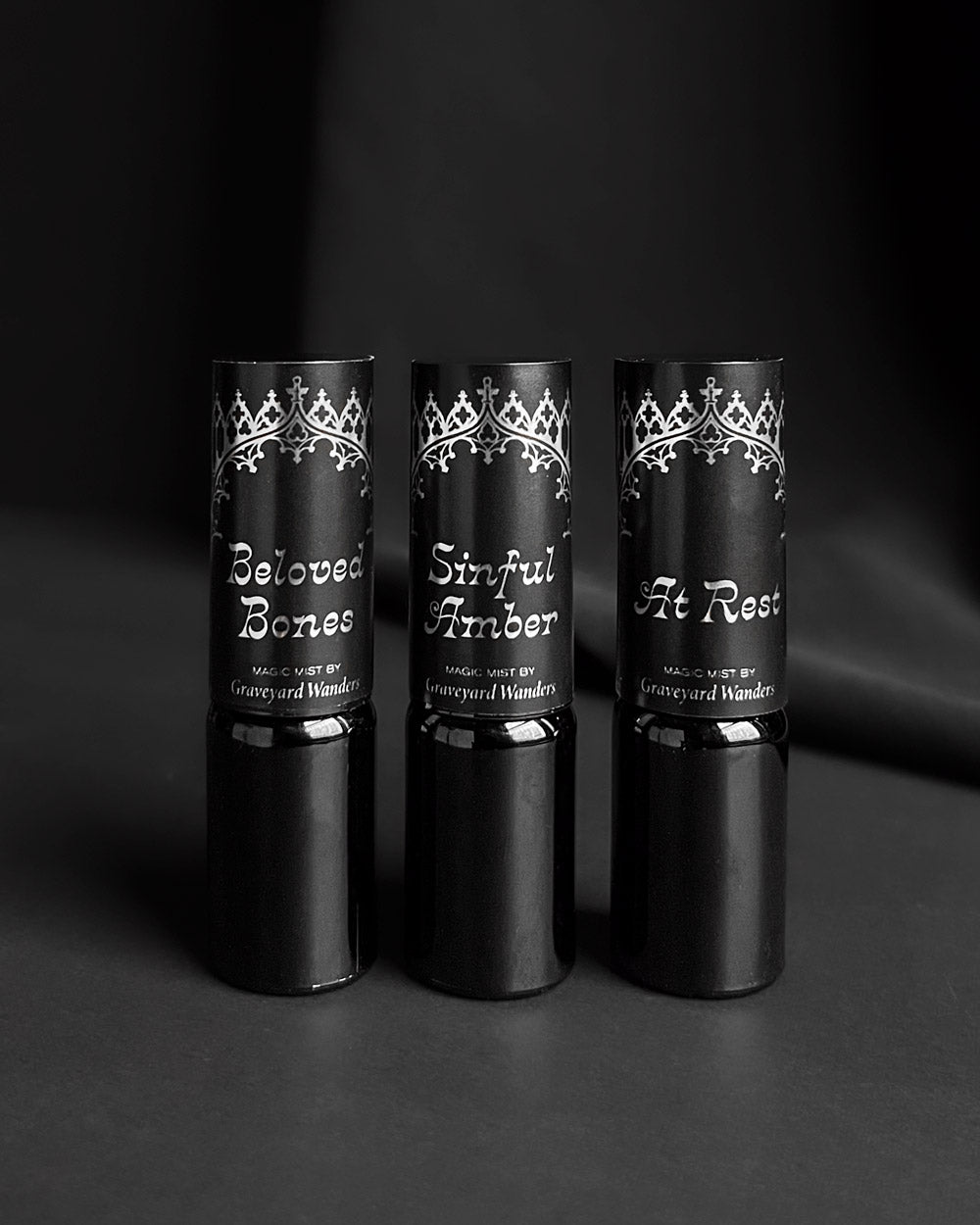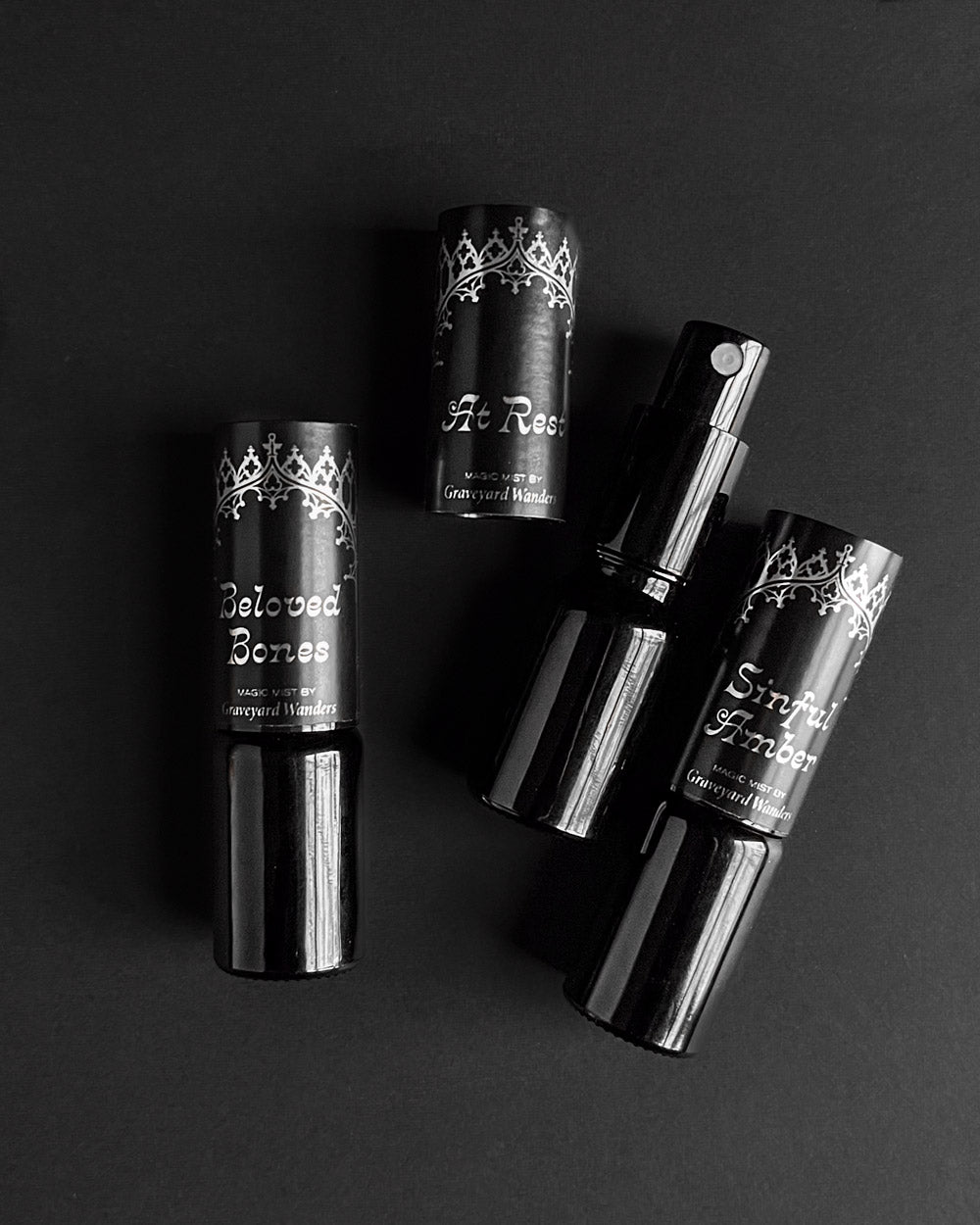 Collapsible content
Why our products are worth more

Our products are exclusively designed, molded & handcrafted in-house, to create unique products like no other. Hand-poured in small batches to offer the best quality. Learn more
How to use this product

Each order comes with with guidelines to ensure proper use of each type of product, favour its longevity and, most importantly, offer a safe experience.


For more information, please visit the Candle Care page.
What our customers have to say
You can win a $50 gift card when sharing your love for a product. One winner is picked at random the 1st of each month!
Gorgeous scents
Love these unique scents. I bought the Magic Mist Discovery set to see which one I preferred, and ended up loving all three!
Take my soul away ! 🕯️
You guys, remember what I said about At Rest being the most hauntingly, amazingly good smelling perfume ever ? WELL HOLD ON, THERE IS MORE ! I bought this lil'cutie box when it released and oh my was I not ready 🥺 The struggle is real, these smell SO GOOD. I simply cannot pick a favourite anymore 🥲 I shall forever be switching between these however my mood feels on that particular day 🦇🦇
Mini Set Review
Love the scents - my husband ended up purchasing a larger version of AT REST for himself and SINFULL AMBER for myself. I'd say just watch the packaging it was leaking.
Thank you for your review Erica! We're happy to read you loved At Rest & Sinful Amber so much that you got larger sizes of them :) Thank you for also addressing the little leakage you encountered, we apologize for any inconvenience! Shipping liquids can be a little tricky so we take multiple steps, like adding a gasket inside the cap & sealing them tight, to ensure they are as safe as possible. It does however happen once in a while that a bottle will leak a bit due to shaking during shipping. We will definitely continue to see what other measures come up over time to remedy this even further! Thanks again :)