Multicoloured Halloween Taper Set
Regular price
Sale price
$19.00
Unit price
per
Please allow 1-2 weeks for processing & shipping


Limited edition set of 3 autumnal colors & scents for the ultimate Halloween taper set.


Handmade with :
✺ Canadian Beeswax from a small family farm
✺ Cotton Braided Wick
✺ Phthalate-Free Fragrance
✺ Candle Dye
✺ Our handmade molds, giving them a rustic look
Fragrance :
🎃 Orange: Samhain Spice (Spice, Pumpkin, Sugar)
🦴 Ivory: Beloved Bones (Sandalwood, Clove, Patchouli)
🪦 Black: At Rest (Incense, Earth, Musk)
Burn time :
✺ Approximately 9 hours per candle
Natural frosting on candles :
Soy & Beeswax develop a frosty layer called Blooming. This is the nature of pure and natural wax & ensures you're getting the real thing! It does not affect the burn ability or fragrance of the candle & will be more apparent on coloured candles.
Why our candles are worth more

Our products are exclusively designed, molded & handcrafted in-house, to create unique products like no other. Hand-poured in small batches to offer the best quality. Read more
Candle Safety

Each order comes with a Candle Care card with guidelines to ensure proper use of each type of candle, favour its longevity and, most importantly, offer a safe burning experience.


For more information, please visit the Candle Care page.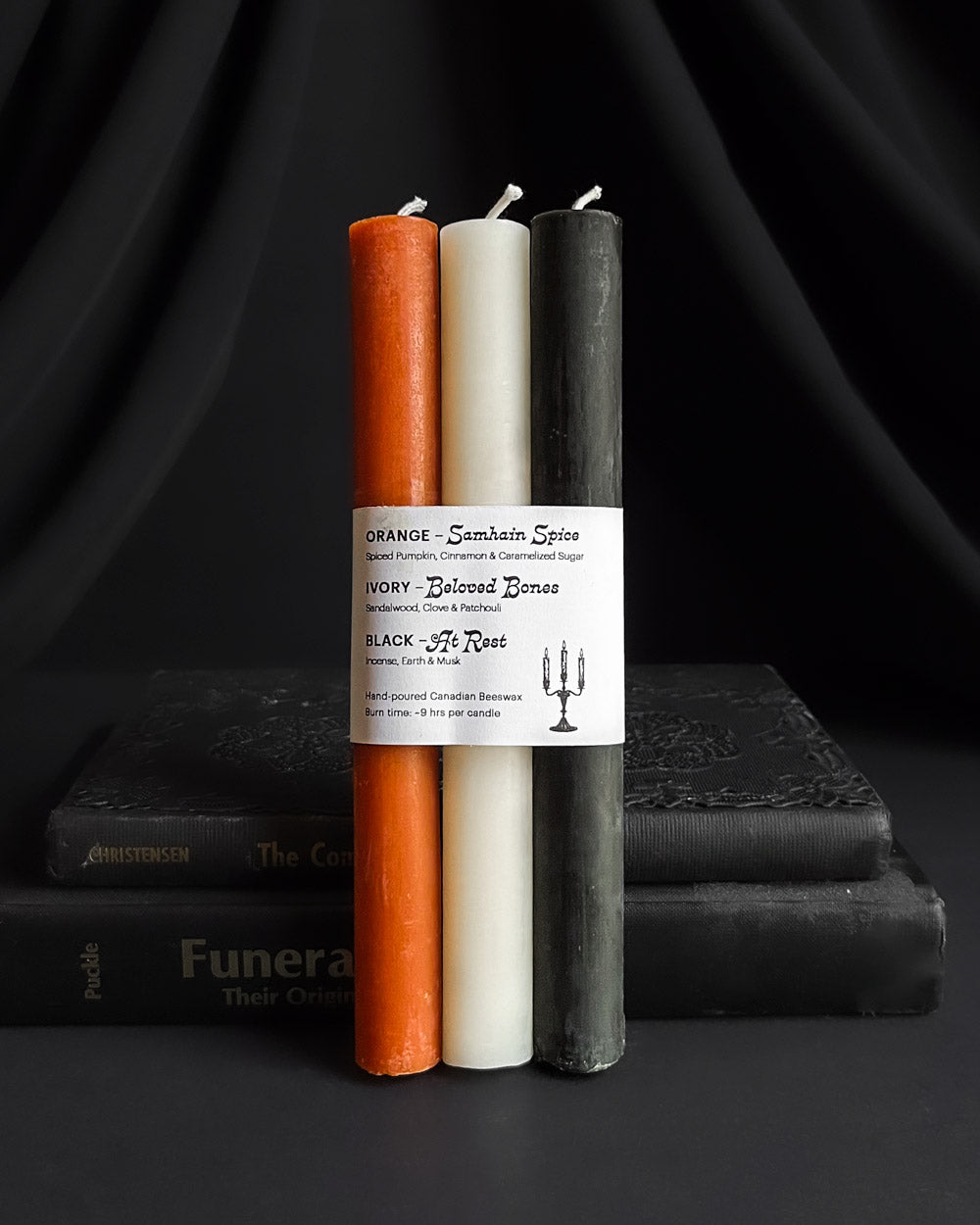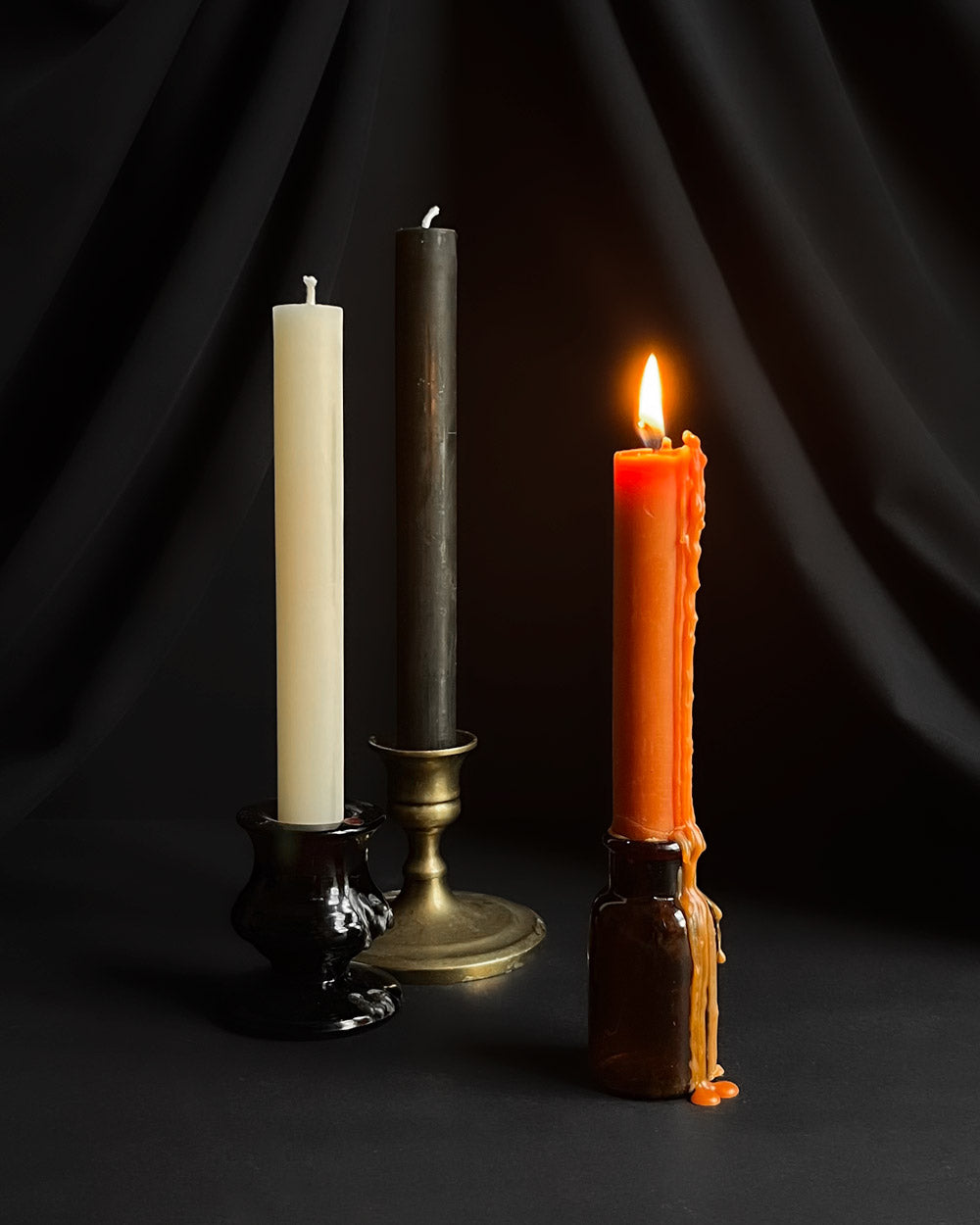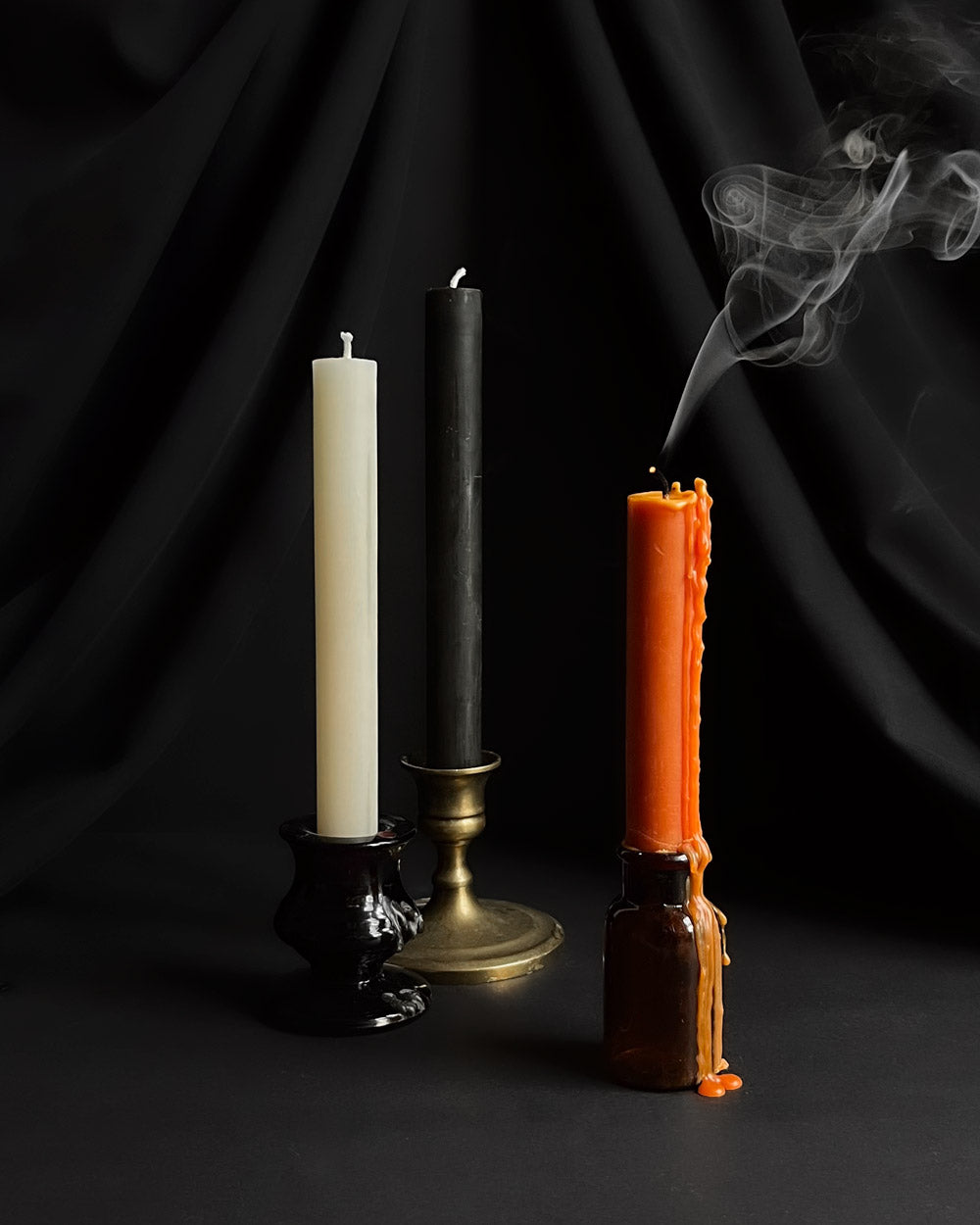 What our customers have to say 🖤
You can win a $50 gift card when sharing your love for a product. One winner is picked at random the 1st of each month!
These candles smell SO good I don't even want to burn them! I love how they look with my decor and they're great quality. Shipping is super quick too! Thank you!🖤
RUN DON'T WAIT!!🧡
These candle sticks are so beautiful and their smell fills the whole area before even being lit. They are beautifully wrapped upon arrival. I immediately put them in my alter space to rest. Can't wait to lit them.
Orange Tapers
The tapers were wrapped beautifully, its like I'm giving myself presents! I can't wait to see how they melt, but until October 1st I'll just admire them on my mantle.
Gorgeous!
As per usual, these smell look amazing!
Do not think twice, buy them!
I cannot say enough good things about the candles I've received from GW. The candles themselves are beautiful and the scents are intoxicating. The personal details in the packaging alone show the amount of care and love that goes into each of these treasure. My only complaint? The candles are so lovely I don't want to burn them!
Not just a candlestick
I cannot tell you how much I love these candlesticks. I often used to buy the cheap standard ones but now I know what I've been missing. The quality of the wax first of all is amazing and I love how vibrant the colour is. Perfect for spooky season and for adding a pop of colour to your decor. Also the scent is delicious!