Rest In Hope & Rise In Glory ~ Set of 2 Candles
Regular price
Sale price
$49.00
Unit price
per
Cherubs are a strong symbol of youth & innocence. There is something sweet and thought provoking about them. They remind us that stopping to smell the roses is an important aspect of our existence.
Handmade with :
✺ Soy wax
✺ Cotton Braided Wick
✺ Phthalate-Free Fragrance
✺ Our handmade molds
Fragrance :
✺ Our Cherub Dream fragrance: a heavenly blend of Toasted Hazelnuts, Creamy Vanilla & Maple Sugar.


Every design is a Graveyard Wanders original.
Natural frosting on candles :
Soy & Beeswax develop a frosty layer called Blooming. This is the nature of pure and natural wax & ensures you're getting the real thing! It does not affect the burn ability or fragrance of the candle & will be more apparent on coloured candles.
Why our candles are worth more

Our products are exclusively designed, molded & handcrafted in-house, to create unique products like no other. Hand-poured in small batches to offer the best quality. Read more
Care Info

UNIQUELY SHAPED PILLAR CANDLES
✧ Place your candle on a tray to catch wax drips.
✧ As these are irregular shaped candles, they can be leaky when burning & may need wick trimming 30 minutes in.
✧ Do not burn for more than 2 hours at a time.
✧ Prior to each use, trim the wick to 1/4 inch.
Candle Safety

Each order comes with a Candle Care card with guidelines to ensure proper use of each type of candle, favour its longevity and, most importantly, offer a safe burning experience.


For more information, please visit the Candle Care page.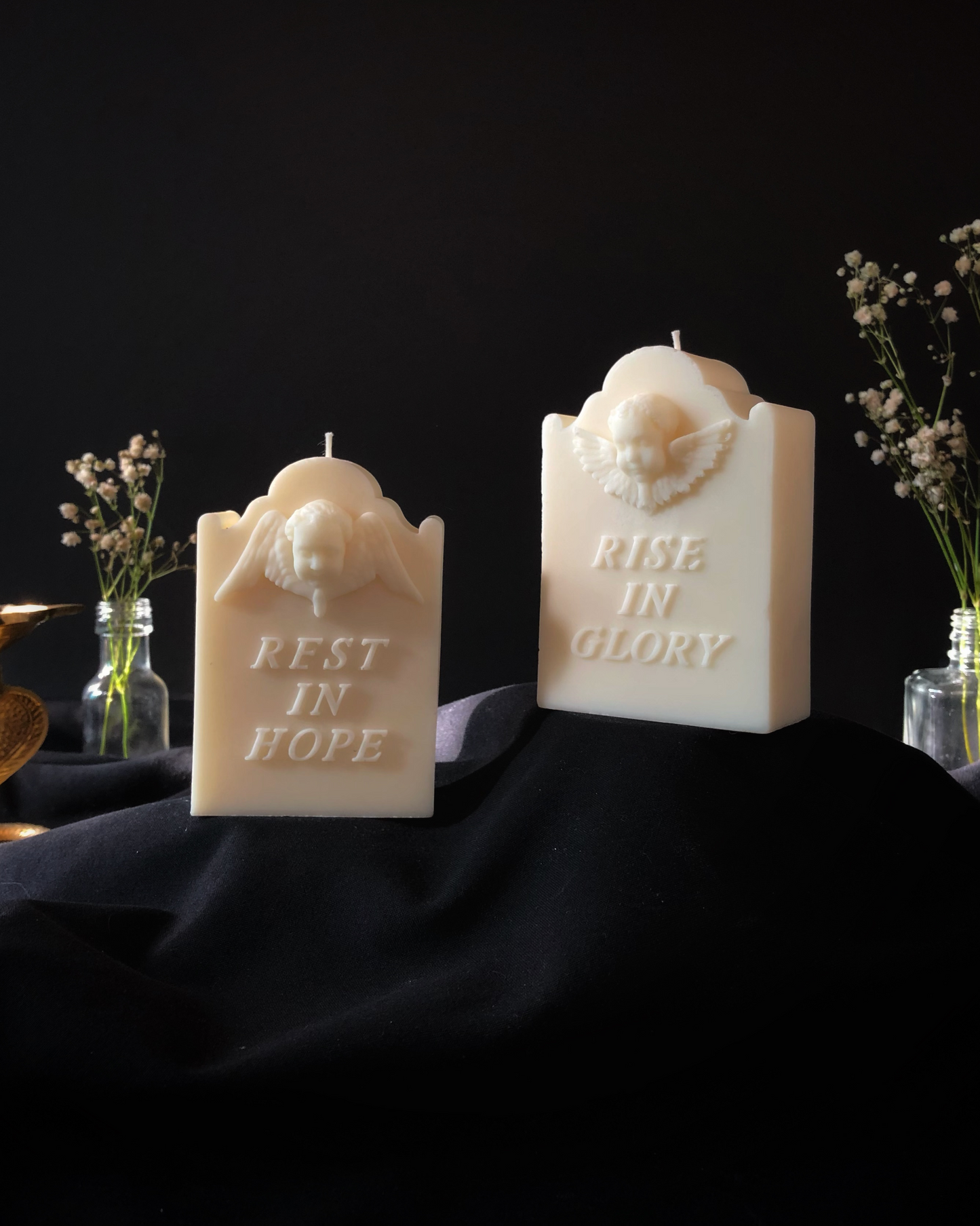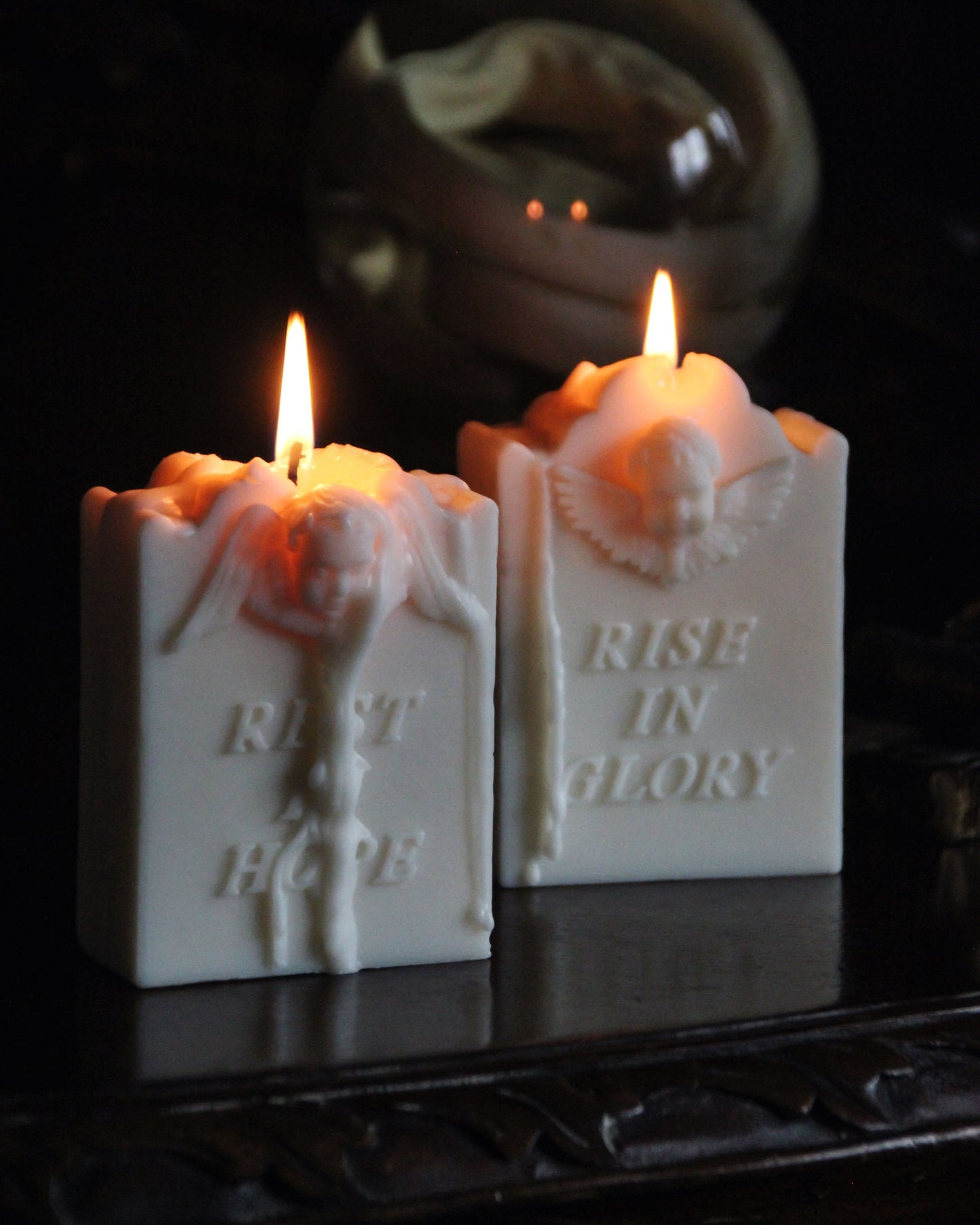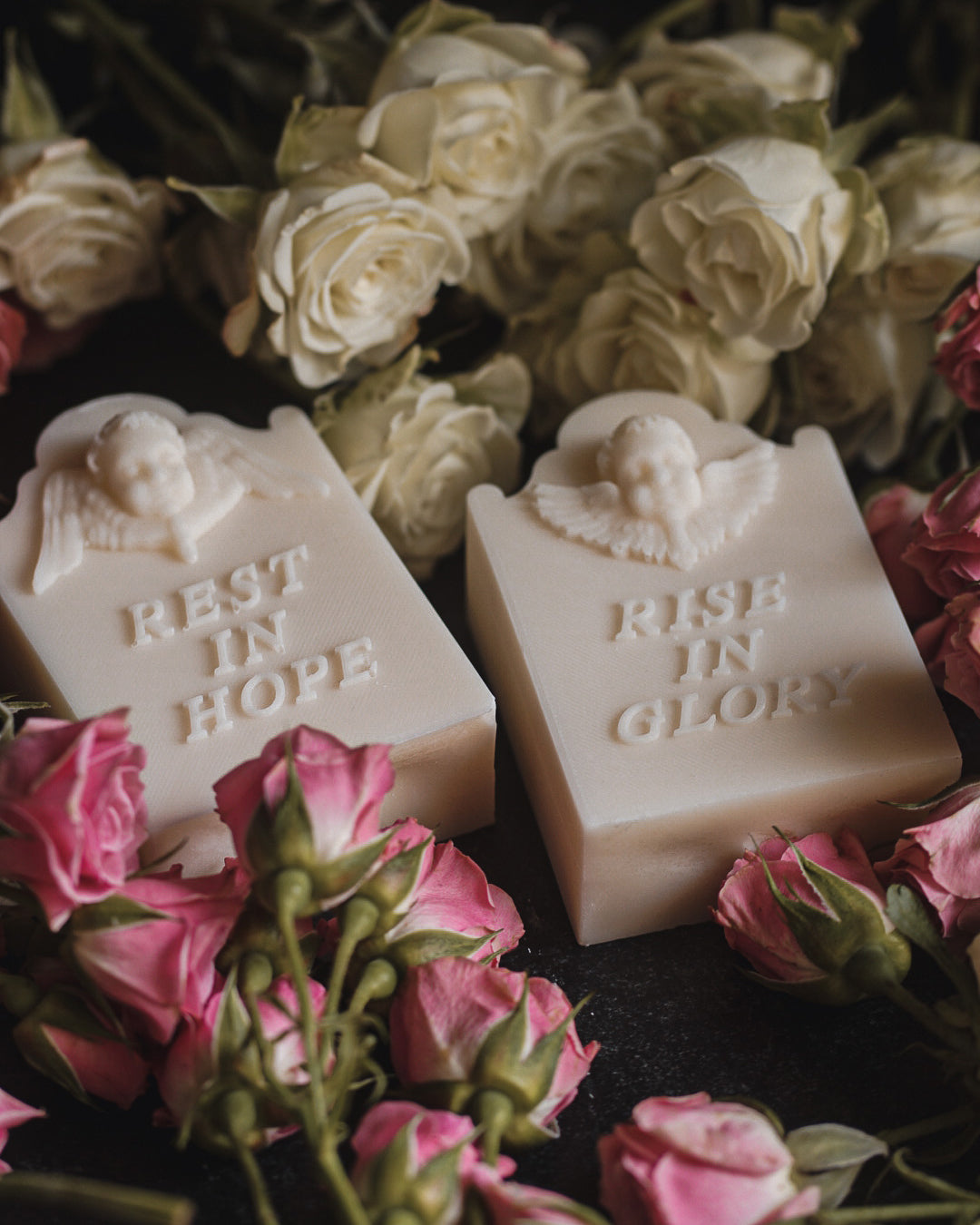 What our customers have to say 🖤
You can win a $50 gift card when sharing your love for a product. One winner is picked at random the 1st of each month!
Even more beautiful in person, I cannot bring myself to light any of Krystina's candles because the detail in them is incredible. The scents are beautiful too and fill the whole room even without lighting 🖤
An ethereal scent
this 2 pairs of candles is incredible, just out of the package the smell was already divine. I haven't turned them on yet and yet they smell quite spectacularly, and I feel that as soon as I enter the room! I can only recommend them!!🤍🪦
So hauntingly sweet!
These cherub gravestone candles are so sweet and beautiful and smell awesome!! Such a yummy, inviting smell, definitely innocent and warm, just like the little cherubs :) Fast shipping and amazing customer service-thank you Krystina!! :)
Nothing else out there like this
Truly a cherub dream. The whole story behind these candles is amazing in of its own. The way these burn and drip is so lovely. One of my favorite scents <3
Favorite duo and a must have in every home!
My entire room smells so good because of these candles I love them so much they're one of my favorite ones bought 2 pairs already one to burn and one set for decor because they're too beautiful to burn but I also love the melted look 🤍
Cutest duo ever
The cutest and most lovely smelling candle duo! I love the simplicity of the colour with the shape and how well these pair together. So dreamy!