Gothic Revival Candle
What gothic dreams are made of
Regular price
Sale price
$89.00
Unit price
per
The Gothic Revival Candle, an artisan-made homage to hauntingly magnificent structures from the past.

Fascinated with the ability to play with wax, this sculptural candle features decorative trims, grand pointed towers, intricate windows & geometrical tracery.

Standing at 7.25 inches tall, adorn your dark home with a piece of Victorian Gothic history & enthralling fragrance.

Without even lighting its wick, the divine aroma of Sinful Amber will fill your space with a romantic whisper of warm amber and sun-kissed forest fruits reminiscent of the secrets that linger within cathedral passageways & towers.
Artisanally made with :
✺ Our handmade molds
✺ Soy & Beeswax blend

✺ Cotton Braided Wick

✺ Phthalate-Free Fragrance

✺ Candle Dye (colour is off-white, light beige)

Scent profile :
Warm • Amber
Entrancing & sensuous, it inspires a feeling of confidence with its blend of soft florals, creamy amber & sun-kissed forest fruits reminiscent of the secrets that linger within cathedral passageways & towers. Fresh & lightly sweet, it's sure to captivate your senses, even if you don't typically gravitate towards florals.
Dimensions :

2.25 in Width x 7.25 in Height

A Graveyard Wanders original design.
Natural frosting on candles :
Soy & Beeswax develop a frosty layer called Blooming. This is the nature of pure and natural wax & ensures you're getting the real thing! It does not affect the burn ability or fragrance of the candle & will be more apparent on coloured candles.
Care Info

UNIQUELY SHAPED PILLAR CANDLES
✧ Place your candle on a tray to catch wax drips.
✧ As these are irregular shaped candles, they can be leaky when burning & may need wick trimming 30 minutes in.
✧ Do not burn for more than 2 hours at a time.
✧ Prior to each use, trim the wick to 1/4 inch.
Candle Safety

Each order comes with a Candle Care card with guidelines to ensure proper use of each type of candle, favour its longevity and, most importantly, offer a safe burning experience.


For more information, please visit the Candle Care page.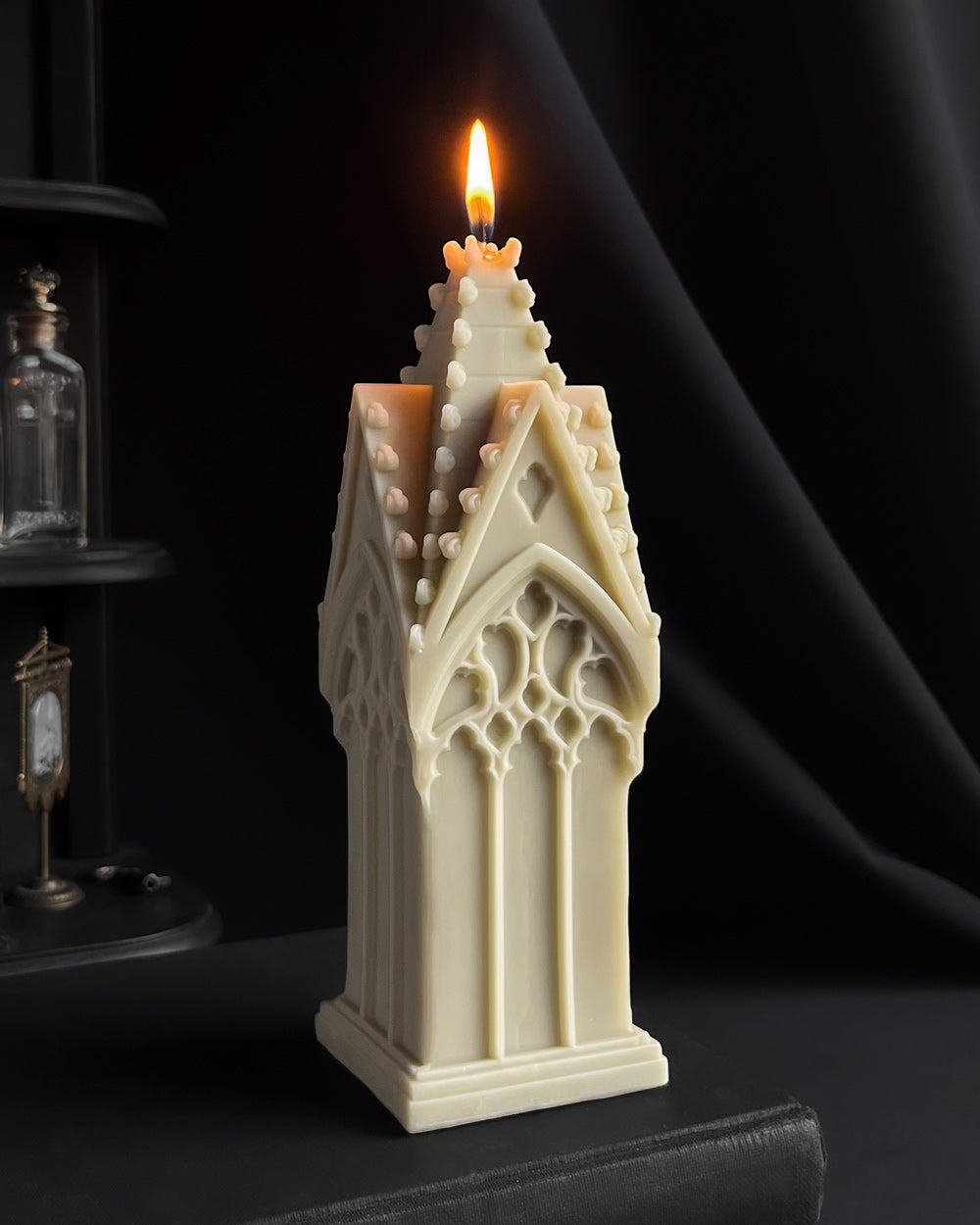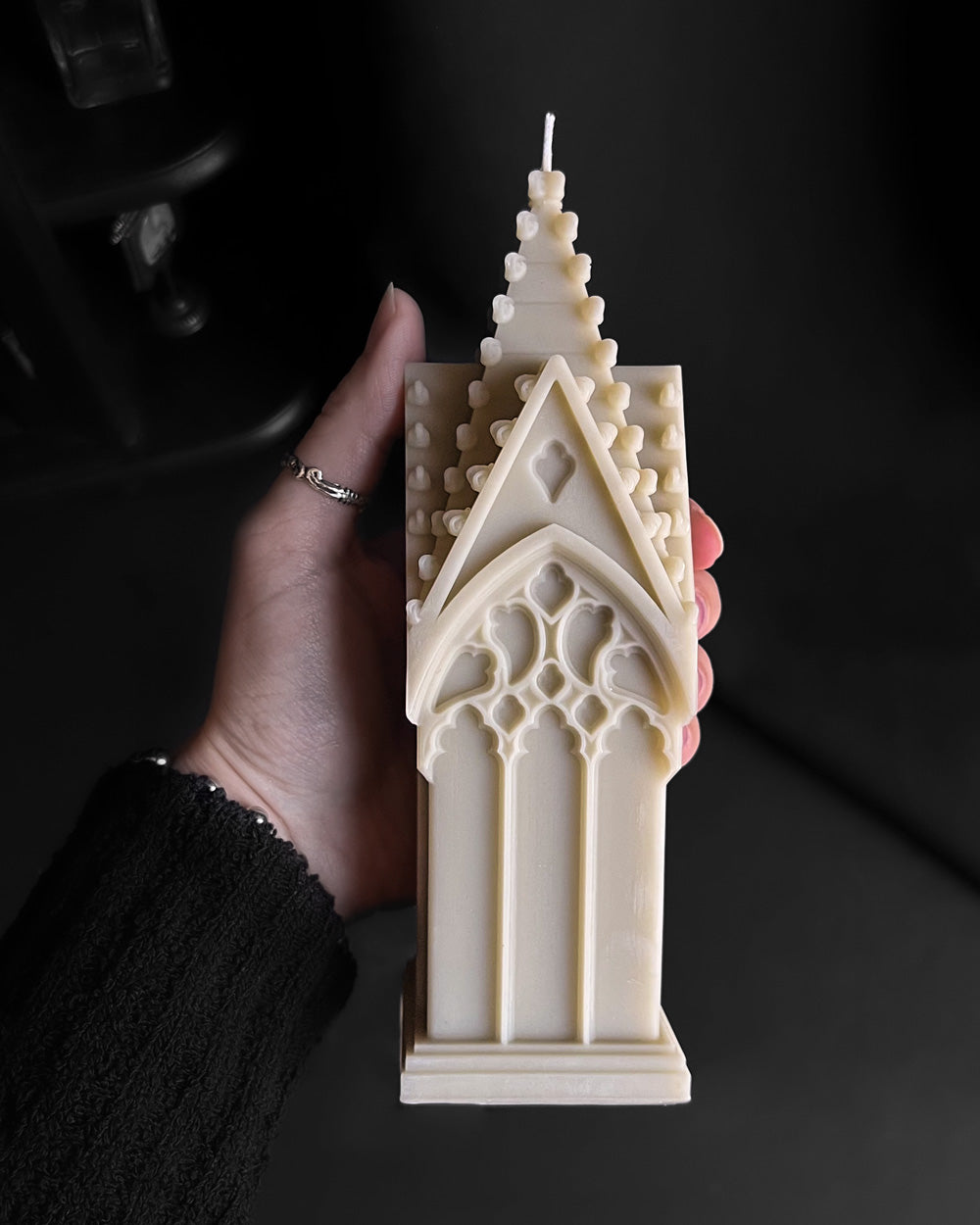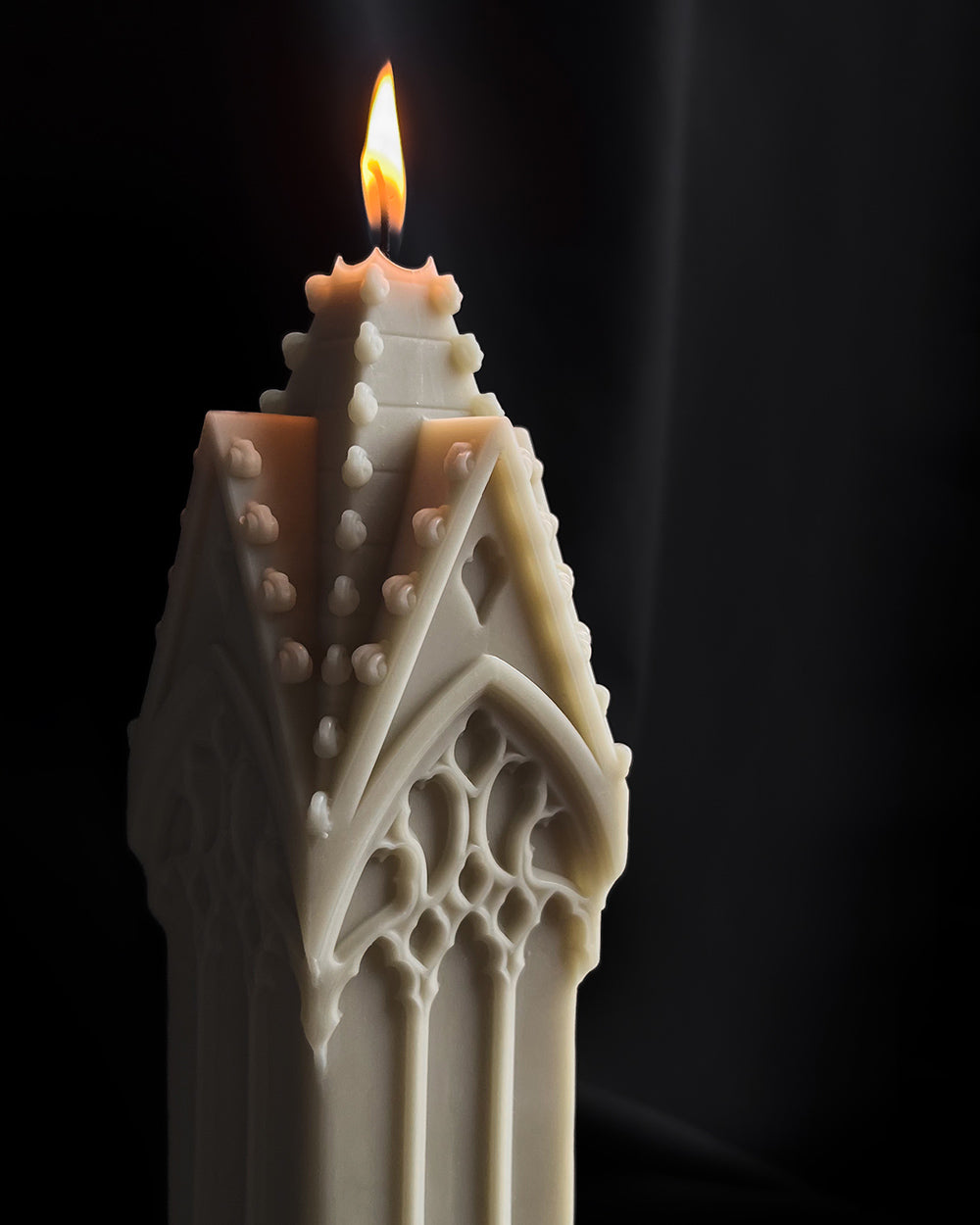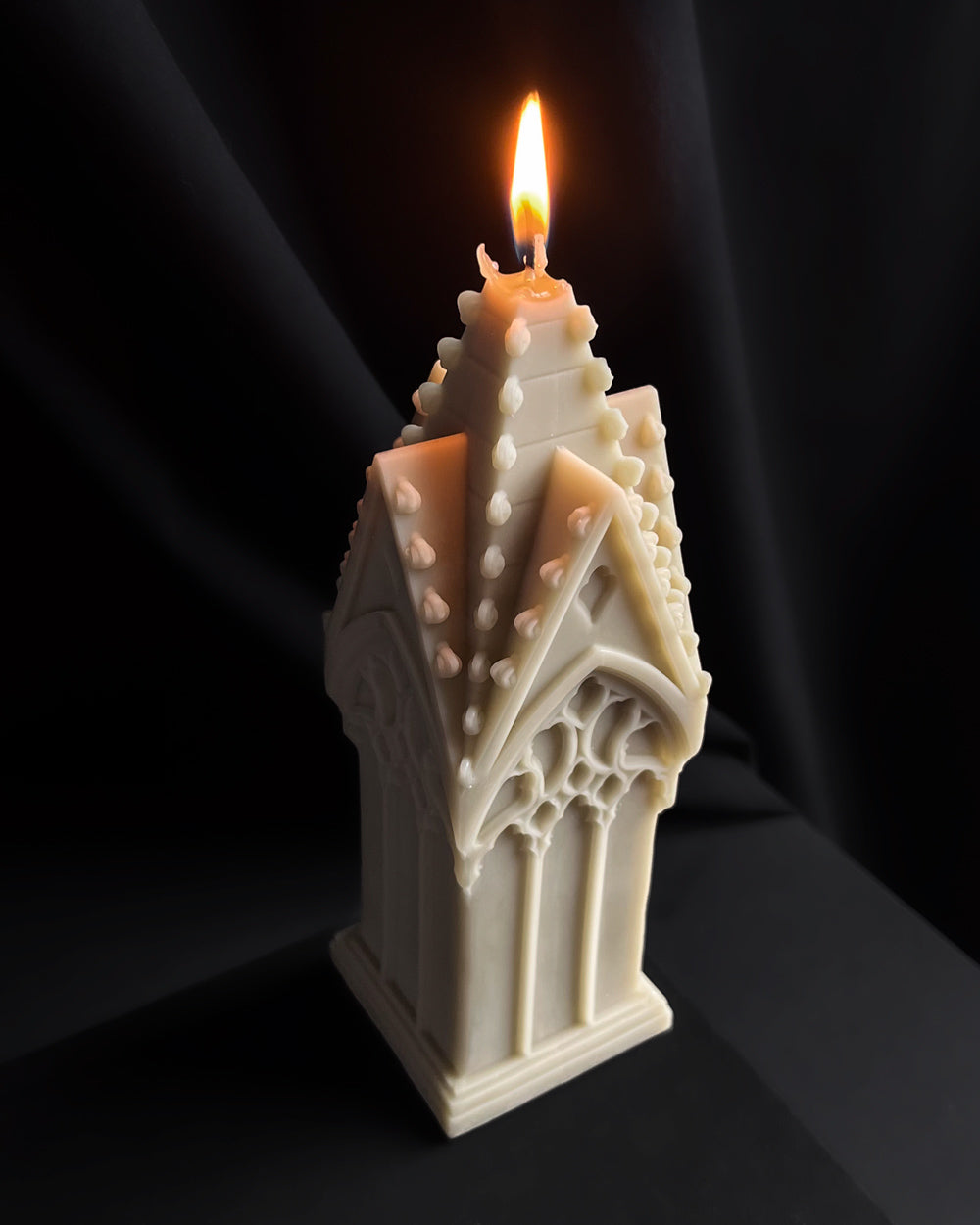 What our customers have to say 🖤
You can win a $50 gift card when sharing your love for a product. One winner is picked at random the 1st of each month!
Cathedral beauty
Reminiscent of many Gothic cathedrals seen in Europe, this candle absolutely captures the beauty and awe-inspiring tracery and arches throughout. It beautifies my medieval-themed sanctuary/bedroom. The scent also captured my 🖤. Thank you Krystina for this magical creation as well!
Here's some magic! 🖤
How could I ever stop contemplating this insanely beautiful and intricately detailed sculptural candle? Its tracery magically reveals itself in the shadow when the shimmering rays of a setting sun softly hit the opposite side of the tower. And the enchanting aroma makes me obsess over the candle even more! Krystina puts her heart and soul into each GW bewitching creation and the Gothic Revival candle inevitably shows her talent!
Gothic Revival Candle
Hauntingly beautiful with a captivating scent. Graveyard Wanders never disappoints!
a MUST for all candle lovers
As if one couldn't be more obsessed with Graveyard Wanders, the Gothic Revival candle further proves the transcendence of Krystina's workmanship! Carefully packaged, poured to perfection, an engaging aroma, and INSANELY smooth & beautiful detail. Nothing can really ever compare to the experience of opening a package from GW! These uniquely scented magical BEAUTIES truly bring you to your happy place, while adding a glimpse of magnificent Gothic history to your home.
Gothic Revival is already a Classic!
Everything about this candle is perfect! The size is impressive, the details intricate and beautiful, the perfume hypnotic! And everything about Graveyard Wanders is amazing! The communication is always great, the products always gorgeous, and the perfumes are always awesome! The orders are always packaged with great care! I can't give enough praise to this creative shop and the artist behind these magnificent candles. Krystina suggested that I should take a family photo of the sculptural candles I had so when the Gothic Revival arrived I got them together for a picture! ;-D I could not be happier about this purchase! Thank you oh so very much!