Black ~ Taper Candles
Regular price
Sale price
$21.00
Unit price
per
Handmade with :
✺ Canadian Beeswax from a small family farm
✺ Cotton Braided Wick
✺ Phthalate-Free Fragrance
✺ Candle Dye
✺ Our handmade molds, giving them a rustic look
Fragrance :
✺ At Rest Fragrance. A smooth Incense fragrance with notes of Earth & Musk.
Burn time :
✺ Approximately 9 hours per candle
Natural frosting on candles :
Soy & Beeswax develop a frosty layer called Blooming. This is the nature of pure and natural wax & ensures you're getting the real thing! It does not affect the burn ability or fragrance of the candle & will be more apparent on coloured candles.
Care Info

CANDLESTICKS
✧ For little to no dripping, never trim the wick.
✧ To achieve a lot of dripping*, trim the wick to 1/4 inch.
*This will cause your candle to burn faster.
Candle Safety

Each order comes with a Candle Care card with guidelines to ensure proper use of each type of candle, favour its longevity and, most importantly, offer a safe burning experience.


For more information, please visit the Candle Care page.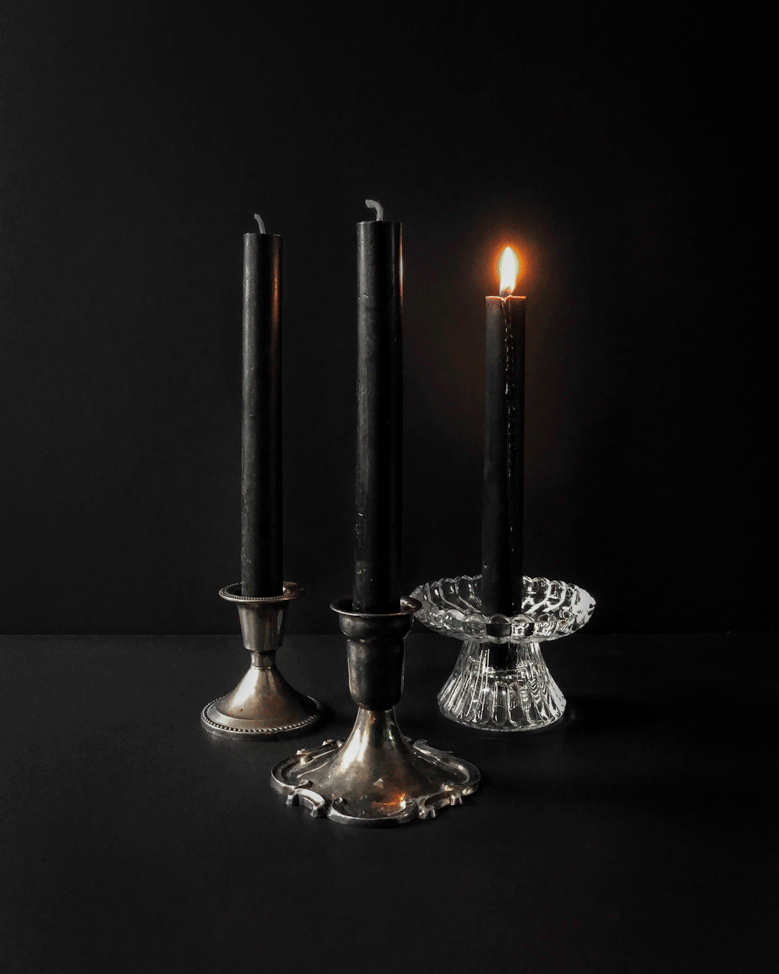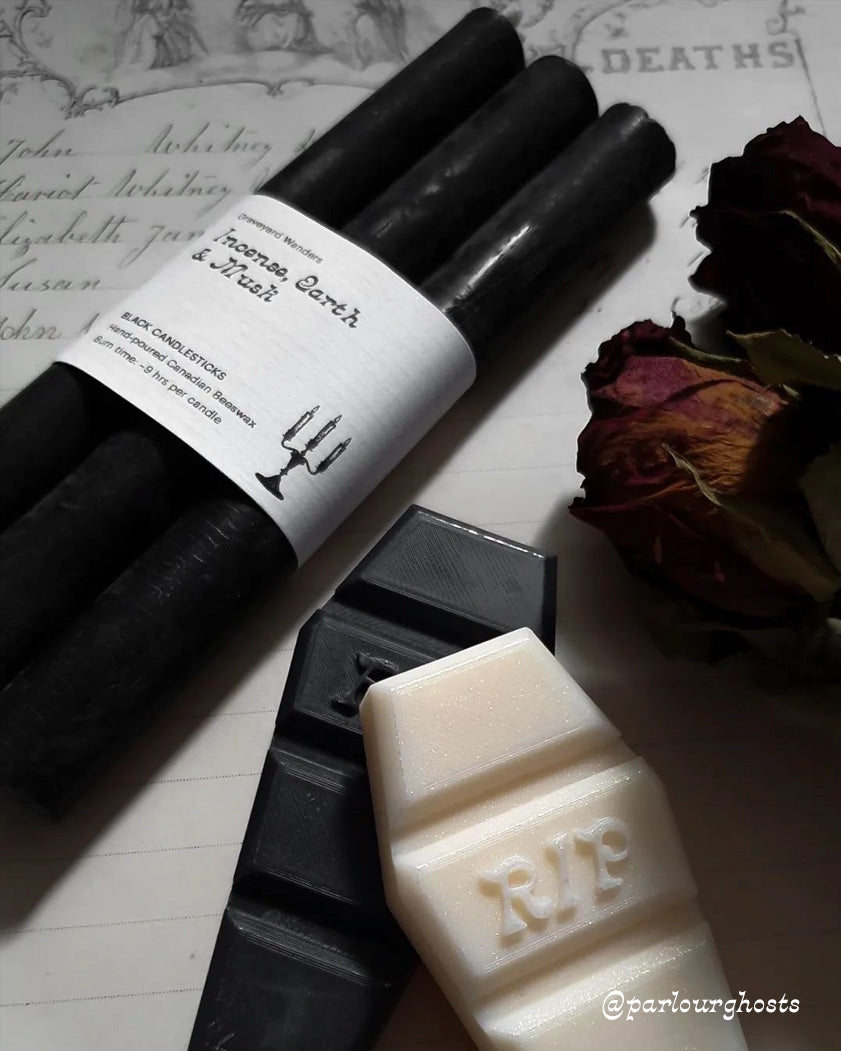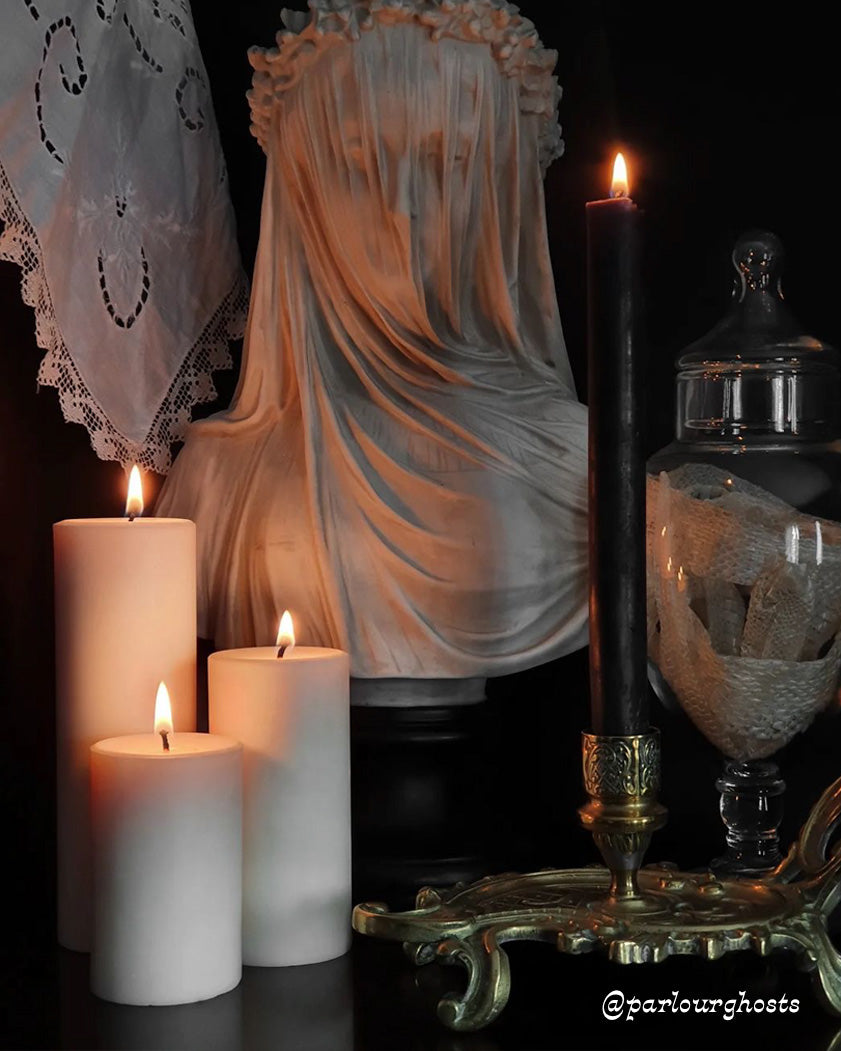 What our customers have to say 🖤
You can win a $50 gift card when sharing your love for a product. One winner is picked at random the 1st of each month!
These are fantastic candles and the scents are amazing. They aren't overpowering and they last a long time.
These are definitely my favorite candle sticks. They fit perfectly in my candle holders and they smell soooo good!! 🖤
I bought these as a gift for my sister and we both absolutely love them! The scent is so unique and earthy.
Amazing scent
I love the scent of these candles! I put them in a candelabra as decoration for Halloween, and every time I walk by them I get this wonderful whiff of their aroma. And the color is perfect.
This scent is my favorite
At Rest is my favorite scented candles guys make. I really love Bloody Berries as well, but this beewax black ones is something of the marvelous. I've been vegan for years and I buy this one still because the scent is simply too soothing. The color is also quite mythical. A blackhole kind of black, very deep and poignant. I highly recommend.
Pleasantly surprised
Quality products, carefully packaged. I haven't had a chance to light the candles yet, but they are beautiful and the smell of beeswax is amazing. I love them.